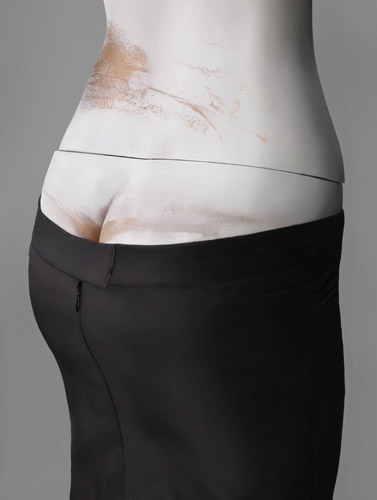 Alexander McQueen (British, 1969–2010)
"Bumster" Skirt
Highland Rape, autumn/winter 1995–96 (re-edition from original pattern)
Black silk taffeta
Courtesy of Alexander McQueen
Photograph © Sølve Sundsbø / Art + Commerce
Audio clip: Adobe Flash Player (version 9 or above) is required to play this audio clip. Download the latest version here. You also need to have JavaScript enabled in your browser.
Andrew Bolton: One of his most iconic designs in this particular gallery is the "bumster." And there's a lot of mythology around the bumster—that he was inspired by the builder's bum. In McQueen's mind, it was an experiment in elongating the body. For McQueen, the most exciting part of anybody's body, male or female, was the bottom of the spine. And the bumsters is really about showcasing that part of the body.
Mira Hyde: My name is Mira Hyde, and I was living in the East End in an area called Hoxton Square, and Lee had moved into my building. He found out that I was a male groomer—I did hair and makeup for men—and invited me to do his next show. And that was how I first met Lee.
I was given a lot of the bumsters because I was quite small and I could wear them. It made you feel taller, especially when you wore them with heels, because then all of a sudden, you just look incredibly long legged and very long torsoed.
The bumcrack . . . sometimes you could see a bit of it, and sometimes it was just above it, but normally you would see just a touch. It was like a bum cleavage, and depending where I went, I would expose it, or I would wear a long shirt, depending on where I was. But I always got commented on it, everywhere.
Andrew Bolton: The bumster trouser caused a sensation when it was launched in the early nineties. I think what's interesting about McQueen is how he would harness the attitude in the street. He was very much about anarchy and about the anarchy of the British street, the anarchy of British music, and trying to, again, harness that into his clothes. And the bumster was one of the garments that, very early on, would make his reputation as this provocateur.

---
In McQueen's Words
"[With 'bumsters'] I wanted to elongate the body, not just show the bum. To me, that part of the body—not so much the buttocks, but the bottom of the spine—that's the most erotic part of anyone's body, man or woman."
The Guardian Weekend, July 6, 1996