The December holiday season is a time of giving, which also makes it, for many, a time of shopping. For several months advertisers have bombarded us with gift ideas, ranging from cars and electronics to the latest fashions. Selling fashion is big business, and many of the most prominent retailers in New York set up lavish window displays every year to entice holiday shoppers. I went on a recent excursion to see some of the city's window displays—(see some of my photos)—and the experience reminded me of several paintings in American Stories that relate to buying and selling clothes.
You may remember one of the earliest paintings in the exhibition—Ralph Earl's portrait of Elijah Boardman—which I discussed in "Old Friends in a New Light" and have included again here: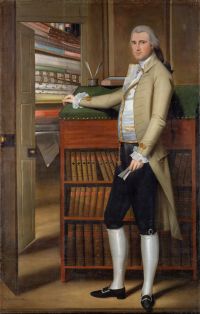 Above: Ralph Earl (American, 1751–1801). Elijah Boardman, 1789. Oil on canvas; 83 x 51 in. (210.8 x 129.5 cm). The Metropolitan Museum of Art, New York, Bequest of Susan W. Tyler, 1979 (1979.395). Photograph © The Metropolitan Museum of Art.
Boardman was a successful dry-goods merchant in New Milford, Connecticut, and Earl shows him standing beside a door in his shop that opens into a stockroom filled with bolts of fine fabric. We know the material is precious because a tax stamp, affixed to the corner of the gray-brown fabric draped over the edge of the lowest shelf, indicates that it has been imported from Europe. Boardman wouldn't have sold ready-made clothing, which became widely available only after the invention of the sewing machine, but in this portrait he serves as a living mannequin, modeling the elegant fashions that could be created from his goods. In addition to actual material goods, Boardman also sells an image of himself as a sophisticated man of distinction who nonetheless earns his living through trade, and is thus aligned with his community's egalitarian principles. Indeed, although Boardman's family was one of New Milford's wealthiest and most prominent, their status, like that of other affluent citizens in the early republic, was kept in check by a societal resistance to the formation of a new aristocracy.
While Earl's painting serves as a billboard for his sitter's good citizenship and enticing wares, other works in American Stories cast a more skeptical eye on the business of fashion. Two such canvases depicting young women who have splurged on bonnets are pictured below:
Above, from left to right: Francis William Edmonds (American, 1806–1863). The New Bonnet, 1858. Oil on canvas; 25 x 30 1/8 in. (63.5 x 76.5 cm). The Metropolitan Museum of Art, New York, Purchase, Erving Wolf Foundation Gift and Gift of Hanson K. Corning, by exchange, 1975 (1975.27.1). Photograph © The Metropolitan Museum of Art; Eastman Johnson (American, 1824–1906). The New Bonnet, 1876. Oil on academy board; 20 3/4 x 27 in. (52.7 x 68.6 cm). The Metropolitan Museum of Art, New York, Bequest of Collis P. Huntington, 1900 (25.110.11). Photograph © The Metropolitan Museum of Art.
In Francis William Edmonds's painting, a young delivery girl has just brought a new hat to the woman at center, who admires the purchase while her parents grimace at the bill. Hat-wearing rituals have essentially vanished, so it's worthwhile to delve into a bit of costume history to understand the appeal of a bonnet such as the one Edmonds has depicted here.
During the nineteenth century, as in earlier eras, it was common for women of all classes to wear some form of head covering indoors and out, and their hats communicated a great deal of information about them. By looking back on these items through the lens of history, we can use them to understand the times in which they were made. In the 1850s, the growth of machine-manufactured fabrics and trimmings led to an increase in decoration on headwear. We get a sense of these new and exuberant decorative possibilities in the bonnet in Edmonds's painting, which is trimmed with frothy white lace and blue ribbon around the brim, with matching blue ribbon ties. The bonnet itself is probably made of straw, but this seemingly humble material was often imported from Leghorn, Italy, which produced an especially desirable variety. The richness of the materials that appeared on American bonnets of the 1850s can be seen in an example from Met's collection: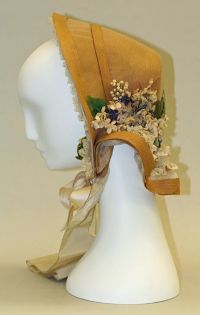 Above: Bonnet (Poke Bonnet), 1856. American. straw; Height: 12 in. (30.5 cm); Length: 9 1/2 in. (24.1 cm). The Metropolitan Museum of Art, New York, Gift of Mrs. Richard T. Auchtmuty, 1917 (17.15.7). See the Collection Database to learn more about this work.
The bonnet, like the one in Edmonds's painting, displays a distinctive curved shape at its base, and is made of Leghorn straw, silk lace, taffeta, and sprays of flowers. The fine and varied trimmings on this hat speak to the material abundance of the era, but also to the means of the person who wore it. Headwear indicated status, and we see this fact clearly in Edmonds's work. The young woman he depicts has purchased a fancy bonnet, in contrast to her mother's simple white cap and clearly distinct from the shawl that the delivery girl uses to cover her head. Perhaps she is hoping to project an air of affluence and attract the attention of a specific class of men.
While Edmonds uses exaggerated gestures to emphasize the comedic tensions caused by overindulgent shopping, Eastman Johnson's treatment of a similar drama is more somber in tone, setting subtle interactions among family members within a shadowy interior. Here, a young woman shows off the bonnet she's just acquired to her sister, who fixes a drink for their father, cold and fatigued from the outing. In this scene, painted nearly twenty years after Edmonds's, the new hat is covered with a dark fabric and is festooned with feathers and a long veil. Again, we see a woman who has indulged in a fashion accessory that would aid flirtation; the veil would have functioned as an attention-grabber. By the 1860s and 1870s, bonnets frequently featured veils or streamers, often called "follow me lads." (See an example in the Met's collection.)
Although millinery shops are rare today, the shopping impulse chronicled by Johnson and Edmonds remains familiar, as people splurge on fashion items to enhance their attractiveness. On the surface, both paintings tell stories about women buying hats, but, more broadly, they chronicle the increasing availability of luxury goods in America and the great temptations they offered. In addition, both paintings associate shopping with a degree of guilt. As viewers, we sympathize with Edmonds's poor delivery girl, who suffers in the face of another's frivolity, and with Johnson's exhausted father. Edmonds, who pursued dual careers as an artist and banker, perhaps knew too well the growing divide between the rich and poor and the dangers of unbridled consumption. Johnson, who based his painting on studies made in Nantucket, perhaps longed for simpler times.
By the early years of the twentieth century, the emergence of large department stores, like Wanamaker's and Filene's, helped to change perceptions about the hazards of consumerism, promoting instead a "democratization of desire," as the historian William Leach has stated in his book Land of Desire: Merchants, Power, and the Rise of a New American Culture (New York: Pantheon, 1993). As manufacturing increased the availability of goods, it became more acceptable for Americans of all income levels to desire the same things. Indeed, William Glackens's The Shoppers speaks to the way in which attitudes about consumption had changed: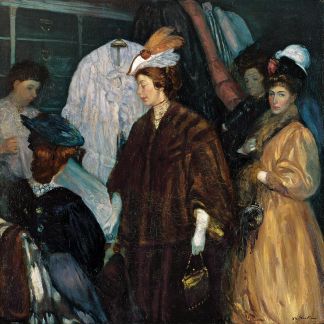 Above: William Glackens (American, 1870–1938). The Shoppers, 1907–8. Oil on canvas; 60 x 60 in. (152.4 x 152.4 cm). Chrysler Museum of Art, Norfolk, Virginia, Gift of Walter P. Chrysler Jr. (71.651). Photograph © The Estate of William Glackens, courtesy Kraushaar Galleries Inc., New York.
At the center of the painting is the artist's wife, Edith, who examines lingerie in the company of female friends. The setting is most likely the New York branch of Wanamaker's, which opened in the city's Washington Square neighborhood in 1906 and was located only a few blocks from the Glackens's residence. Unlike Edmonds and Johnson, Glackens doesn't reproach or satirize the women's shopping activities, and no men are present to serve as foils. Rather, the artist depicts shopping as a facet of the everyday urban American experience that he and the other Ashcan artists sought to chronicle.
While we may no longer dress to the hilt for an afternoon of shopping, the experience of being enticed and entertained by a department store, as I was when I went to see the display windows, still applies. I'm fascinated by the ways in which the four paintings I've discussed here convey the joys and pitfalls of American consumption with such continued relevance. In this season of sharing, I welcome you to contribute your observations here, and wish you safe and happy holidays.
—Katie Steiner
Tags: bonnet, consumerism, Eastman, Eastman_Johnson, fashion, Francis_William_Edmonds, hat, Ralph_Earl, status, William_Leach