Detail from Folio 166r
« Back to "The Hours of the Virgin"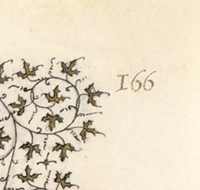 Belles Heures of Jean de France, duc de Berry, 1405–1408/9. Herman, Paul, and Jean de Limbourg (Franco-Netherlandish, active in France by 1399–1416). French; Made in Paris. Ink, tempera, and gold leaf on vellum; 9 3/8 x 6 5/8 in. (23.8 x 16.8 cm). The Metropolitan Museum of Art, New York, The Cloisters Collection, 1954 (54.1.1).
Detail from Folio 166r
The Belles Heures, like other manuscripts, had no page numbers or table of contents. This foliation that can be seen faintly in the upper right corner of the recto pages, as on this example, was added well after the medieval period.