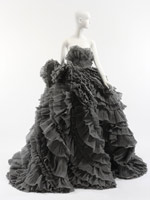 Image: Olivier Theyskens (Belgian, b. 1977) for Nina Ricci (French, founded 1932). Evening Dress, spring/summer 2007. Steel gray heat-crinkled silk organza embroidered with linear chain stitch in white silk. The Metropolitan Museum of Art, New York, Gift of Mario Grauso, 2007 (2007.376.2a, b).
For his inaugural collection at Nina Ricci, Olivier Theyskens referenced not only the archives of the house's faintly recalled eponymous founder but also her perfume, L'Air du Temps, with its two doves hovering above the bottle of swirling crystal. Inspired by the contained yet dynamic movement of the Lalique crystal flacon, Theyskens created a series of spiraling ensembles, from knitted sweaters to structured, couture-worthy ball gowns. As in his earlier work, under his own label and most recently for Rochas, Theyskens infused feminine and romantic designs with contemporary edge and relevance. This gown was shown on the runway without the elaborate, expansive support of its underskirts, thus muting its reference to the Golden Age of postwar haute couture. Here, however, it is displayed in its full, crinolined form as originally conceived.
Clearly, Theyskens is an artist of ambition, proposing as ready-to-wear the most extraordinary achievements of an atelier. The fashion press and merchants have coined the term "demi-couture" to encompass this category of works that falls between prêt-a-porter and haute couture. It is apparent in this gown, however, that the boundaries between couture's world of labor-intensive handwork and lavish artisanal skills and ready-to-wear's arena of creative suppleness and sensitivity to the mood of the contemporary woman have eroded. With his breathtaking vision and technique, Theyskens has successfully negotiated the elegance of the venerable past and the streetwise worldliness of the moment.
In the very first days when I started designing for Nina Ricci, I drew this dress. It came out naturally for me as the right expression of the brand. I wanted this grand gown to be made of rough-looking fabric in an urban gray and entirely ruffled. My aim was to bring a sort of twisting movement all over the dress that would spiral upward and at the level of the waist, like wings, it would take off like a bird.

I found in Nina Ricci a French house with unlimited abilities in the crafting of garments, whose atelier skills offer many possibilities to invent new techniques and also to research new shapes. My thoughts were therefore focused on working with the atelier immediately when I arrived.

—Olivier Theyskens