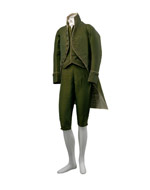 French Suit, 1810–12. Green silk voided velvet with yellow and ivory silk filament fleck motif and ivory silk satin piping. The Metropolitan Museum of Art, New York, Purchase, Irene Lewisohn Bequest, 2003 (2003.45a–c).
The incipient classicism of the last years of the reign of Louis XVI continued to develop and inform post-revolutionary styles. This suit's apparent austerity compared to the elaborately embroidered examples in vogue during the ancien regime suggests a concession to the mood of the tumultuous times. Still, the voided velvet is an example of simplicity masking luxury and technical virtuosity. As the eighteenth century ended, the narrow band collar of the coat had increased in height. In the Napoleonic era, it extended up to the jawline.
Similarly, by the Empire period, coat buttons grew in diameter. This shift in proportion, even if restricted to details of collar and buttons, had the effect of diminishing the scale of a man's silhouette. A narrow, attenuated shape was held to be modish as much for men as for women.