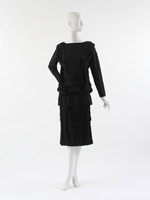 Rei Kawakubo (Japanese, b. 1942) for Comme des Garçons (Japanese, founded 1969). Dress, 1983. Black wool jersey. The Metropolitan Museum of Art, New York, Gift of Muriel Kallis Newman, 2003 (2003.79.21).
The impact of Rei Kawakubo's designs in Paris in 1983 was groundbreaking. Her runway presentation, with its unconventional models wearing body-obscuring layers rendered in coarsely textured materials, was received as transgressive and anti-fashion. In fact, the all-black collection was related in part to Punk styles seen on Kings Road, but it was all the more provocative for its Zen-like austerity and self-abnegation at a time when Christian Lacroix's brightly colored pouf dresses were the rage. Anti-glamour and asexual, the collection repositioned feminine identity in a way that confounded many fashion journalists and critics. Some saw the designs as nihilistic, and a few even characterized them as misogynistic. But, as Kawakubo said at the time, she had merely wanted to make a statement that was "strong."
This jersey chemise from this period of Kawakubo's earliest international notoriety encapsulates her desire to test the limits of what is defined as beautiful or ugly, appealing or repugnant, diminishing or enhancing. Adopting Chanel's strategy of reverse chic, she took lowly black wool jersey and transfigured it into a designer dress, an item of value. For both designers, the apparent plainness, even meanness, of their dresses represents a higher, more sophisticated aesthetic system. Their knowing client responds not to the immediate seduction of rich effects and materials but to the more elusive refinements of subtle finishes and detail as well as to a mode of self-presentation that seeks to avoid any suggestion of ostentation. Kawakubo's design, with its interweaving of sleevelike bands across the torso, recalls the criss-crossing straps of a straitjacket and the body harnesses of Punk bondage apparel.