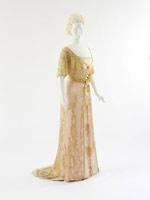 Austrian Evening Dress, 1910–12. Pink silk satin, yellow silk satin, pink silk net with gold bead, rhinestone, and silk thread embroidery and tasseled rope appliqué, white silk lace trim. The Metropolitan Museum of Art, New York, Purchase, Irene Lewisohn Estate, 2003 (2003.46).
This evening dress from Vienna reflects a shift in international taste emanating from the couture houses of Paris. By 1910 the severe pouter pigeon, or monobosom, bodice and S-curve silhouette that characterized fashions at the start of the century were superseded by a Directoire Revival style most famously introduced by Paul Poiret. The Austro-Hungarian court, however, was among the most conservative in its requirements for protocol and dress. This gown therefore manifests both the incorporation of the increasingly cylindrical line endorsed by Paris, while suggesting, in comparison to a Poiret gown with its waistline raised to directly under the bust, only the beginnings of a concession to the most advanced of French designs.
Composed of a pink satin underdress and an elaborately embroidered silk tulle overdress, the gown reprises elements of formal Napoleonic dress that were themselves evocations of the aristocratic, pre-revolutionary open gown. The eighteenth-century open gown conveyed the impression of an over dress open at the front bodice and underskirt, or petticoat. In this instance, the over gown of silk tulle is so fine as to be virtually invisible, conveying the impression that the elaborate beading and embroidery are applied directly to the underdress. The vividness of the bugle-beaded embroidery and tassels is the result of the twenty-four-karat-gold foil that lines each bead.