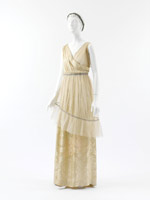 Paul Poiret (French, 1879–1944). "Théâtre des Champs-Élysées" Gown, 1913. Ivory silk damask, ivory silk net, and ivory China silk with rhinestone trim. The Metropolitan Museum of Art, New York, Paul D. Schurgot Foundation Fund, 2005 (2005.193a–e).
This particular model, worn by Paul Poiret's wife, Denise, to the premiere of Le Sacre du printemps, was named after the recently opened Théâtre des Champs-Élysées, where the Diaghilev and Stravinsky collaboration was inaugurated. Theater played an important role in the imaginative life of Poiret. The performing arts inspired many of his flights of fancy, and the theater provided him with an opportunity to introduce his more overtly fantastical styles into society through designs worn on stage by such great actresses of the day as Mlle Spinelly and Eve Lavallière as well as by his more adventurous clients of artistic and bohemian sensibility who populated the audience. Opening night at the theater, with its formal dress, provided a venue where extravagant display was not only appropriate but de rigueur.
With its raised-waist tunic effect and ivory tonalities, "Champs-Elysées" alluded to historical, eighteenth-century Neoclassical styles. However, the simple white gown depicted by such painters as Joseph-Marie Vien has been reinterpreted by Poiret in a richly patterned silk damask and silk tulle. Double bands of lead-crystal rhinestones articulate the high waist and reinforce the tulle overskirt with a subtle hooplike support. Unlike his "Minaret" lampshade tunic forms, which were high in front and low in back, the designer gave an asymmetrical cant to the hem and reasserted the angled drape of the gown's surplice neckline.