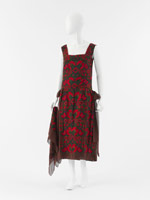 Gabrielle "Coco" Chanel (French, 1883–1971). Ensemble, 1922. Brown silk georgette with red, green, and blue stylized floral silk thread chainstitch embroidery. The Metropolitan Museum of Art, New York, Purchase, Friends of The Costume Institute Gifts, 2005 (2005.114a, b).
When Karl Lagerfeld, the creative director of Chanel, first saw this ensemble, he immediately lifted its hem and examined the reverse of the lavish embroidery. "This is not handwork. It is machine," he declared. The curators had dated the piece to the period of Gabrielle Chanel's association with the Kitmir embroidery firm of Grand Duchess Marie of Russia, the sister of Grand Duke Dmitri, Chanel's lover at the time. According to popular lore, the Kitmir firm was established so that the aristocratic women in the expatriate White Russian community might profit from their fine hand-sewing skills. Lagerfeld's observation, then, created some confusion about the authenticity and dating of a piece that should have been the expression of the needleworking skills of the Kitmir ladies.
Eventually, however, research revealed that while Kitmir began with time- and labor-intensive hand stitching, Chanel had been immediately dismissive of the benefits of such efforts and had purchased three machines for her paramour's sister so that the grand duchess might produce her embroideries more efficiently. This subordination of the value of handwork where it provided no additional aesthetic value may be seen as a manifestation of Chanel's businesslike approach to fashion: decorative appeal had its own rationalization, whether in fake jewelry or folkloric embroideries. Artisanal effects for Chanel were not diminished by the fact that they were the product of industrial processes.
This is a rare model from Chanel's Russian collection. The embroideries, inspired by folkloric Russia, were done by the Kitmir atelier, a workshop specializing in Russian embroideries, founded in Paris by Princess Maria Pavlovna, who was the sister of Grand Duke Dimitri. Almost nothing exists from this 1920s Chanel collection.

—Karl Lagerfeld