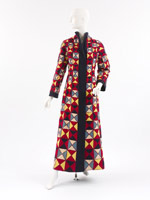 Elsa Schiaparelli (French, born Italy, 1890–1973). Coat, spring 1939. Multicolored pieced felted wool. The Metropolitan Museum of Art, New York, Gift of Ruth Ford, 2002 (2002.479.4).
Society beauty and actress Ruth Ford was a favorite model for photographers from Cecil Beaton to George Platt Lynes. In the late 1930s the great British eccentric and Surrealist aficionado Edward James introduced her to Elsa Schiaparelli. Miss Ford selected several audacious and iconic examples of the designer's oeuvre—for example, the notorious "Skeleton" gown now in the Victoria and Albert Museum. That dress of black chiffon-weight Racine jersey is embellished with a trapunto, or padded, outline of a skeleton. On the wearer, the dress has the astonishing effect of a thinly veiled nude body with a cadaverous relief.
In this coat, from Schiaparelli's spring 1939 collection entitled "A Modern Comedy," the designer's reference is to the eighteenth-century commedia dell'arte. In a collection that featured bright satin jackets in vivid colors called Pierrot blue, Tabarin red, Mezzitin pink, Capitan yellow, and Pulcinella green, Schiaparelli merged the material and techniques of folk dress with the iconography of carnival and masquerade. With apparent disregard for the dark political environment immediately preceding World War II, the designer created works of antic diversion and superficial gaiety.