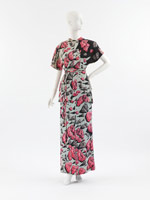 Gilbert Adrian (American, 1903–1959). Print by Salvador Dalí (Spanish, 1904–1989). Dress, 1947. Light blue rayon crepe with pink, black, and gray printed Dalí motif and patches of polychrome printed rayon crepe appliqué. The Metropolitan Museum of Art, New York, Gift of Jones Apparel Group, USA, 2002 (2002.326.26a–c).
As a costume designer for MGM during Hollywood's Golden Age, Gilbert Adrian (born Adolph Greenberg) dressed, among other stars of the studio, Katharine Hepburn, Joan Crawford, and Greta Garbo in some of their most famous roles. His dramatic ensembles were such an important element of a film that his involvement was announced in the opening credits. In 1942, parlaying his wide renown, Adrian established a fashion house that was an immediate success. His signature silhouette was characterized by wide, padded shoulders and a narrowed hipline. An Adrian design often incorporated a technique of elaborate piecing, especially with complicated mitering of stripes in graphic geometries.
With this gown, Adrian recalls his earlier Surrealist designs from the 1939 movie The Women, in which a fashion show features not only sumptuous haute-couture gowns but also a series of exaggeratedly fantastical designs that reference Elsa Schiaparelli's collaborations with Salvador Dalí. The fabric used in this gown is most likely an example from a series of designs Dalí created for the American textile manufacturer Wesley Simpson. Adrian introduced a signature whimsy to the Surreal landscape of the print by inserting a shadowy profile at the gown's left shoulder. He created this subtle jeux d'oeil with typical virtuosity through careful piecing—an especially difficult technique with slippery rayon crepe—rather than by the simpler process of appliqué.