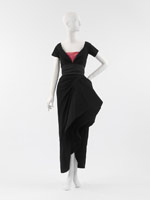 Christian Dior (French, 1905–1957). Eventail Dinner Dress, fall/winter 1948–49. Black wool crepe, pink silk crush velvet, and black silk faille. The Metropolitan Museum of Art, New York, Isabel Shults Fund, 2006 (2006.20a–c).
After the sartorial constraints of World War II, Christian Dior's presentation of 1947, with its emphasis on a silhouette with rounded shoulders, wasp waist, padded hips, and lowered hemline, created a sensation. Carmel Snow of Harper's Bazaar is said to have told Dior after his inaugural collection, "It's quite a revolution, dear Christian. Your dresses have such a new look." Although "New Look" came to be attached to the collection, the style was, in fact, one that looked back almost a half a century to fin de siècle corseted styles.
From the auspicious launch of this initial "Corolle," or "Ring of Petals," collection, Dior moved to other varied themes, each characterized by its own geometries and silhouettes. He dubbed the fall/winter 1948-49 collection in which this dinner dress appeared "Zigzag." Every design from the collection incorporated sharp angled forms that extended the collar, the hipline, or the skirt. "Eventail," or "Fan," introduces stiff canvas interfacing to several graduated layers of black wool crepe to buttress their carefully calibrated splay.
There is more to Dior than just the "New Look." Dior is the man who made the world look new. I think it's extraordinary how one collection can stand for so much, can define one man, one house, but also how one show can initiate such change. Well, where do you go from there?

I think the true genius of Dior was his ability to survive and continue from the 1947 New Look, to continue to innovate, constantly move and challenge fashion and not to be afraid to change the silhouette that shaped his whole career. I think it's impressive and a mark of Mr. Dior's courage as much as his design creativity that less than a year after changing the woman's way of dressing he said "Well what about this, this, or this?" Dior didn't get stuck in a rut nor was he one to be pigeonholed with one look. Each season meant a New Look! A year after the revolution he had evolved, his women had evolved, so it was time for the Next New Look.

Fashion is all about change; fashion when it works well is the barometer of our time—this is what Dior was a master of. There is more to Mr. Dior than a full skirt with a great expanse of fabrics, just as there is more to me than a bias-cut dress! Look at the elegance and the genius of this cut, how the line twists and slims the waist and the inverted folds bring movement to the form. The precision and grace are masterful and the wearer becomes a work of art.

—John Galliano