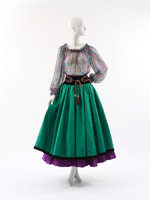 Yves Saint Laurent (French, born Algeria, 1936). Evening Ensemble, fall/winter 1976-77. Blouse: multicolored floral printed silk chiffon with gold lamé polka-dot brocade; Skirt: black silk velvet and green silk moiré; Belt: maroon silk velvet with gold lamé, rhinestone, and silk embroidery and maroon and gold metallic and maroon silk twined rope and tassles. Bequest of Yolande Fielding-Scheftel, 2006 (2006.271.14a–e).
In the mid-1970s the relevance of haute couture was seriously debated. The political and social upheaval of the 1960s, the emergence of a plethora of creative ready-to-wear designers, and the increasing preference for a sportswear approach to dressing as represented by American fashion were among the shifts in lifestyles and taste that appeared to sound the death knell of the calcified and elitist world of the maisons de couture.
It was at this time that Yves Saint Laurent, haute couture's preeminent practitioner, threw caution to the prevailing winds with a collection of unrivaled fantasy and luxury. He called it his "Russian Collection," but his designs were Slavic only in their Oriental excess and opulence. Inspired by the Bakst costumes of the Ballets Russes, each ensemble appeared to be a repudiation of the informal, pared-down, and functional looks of the street. By employing all the techniques of the petites mains—those workshops of embroiderers, passementerie makers, lace weavers, feather workers, and jewelry makers—Saint Laurent revived the taste for elegant excess. Compared to the Art Deco spareness of the 1930s-revival crepe and jersey evening columns popular during the period, the Russian ball gowns were a sensory explosion of color, ornament, scale, and even sound, for each skirt was supported by a coordinated taffeta petticoat that announced the approach of its wearer with a dry rustle.