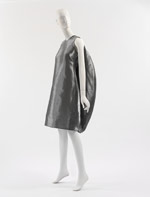 Yeohlee Teng (Malaysian, b. 1951). "Bellows" Dress, fall/winter 2007–8. Mercury silver Lurex. The Metropolitan Museum of Art, New York, Gift of Yeohlee Teng, 2007 (2007.375.3).
From her earliest collections, Yeohlee's approach to garment construction set her apart from most American design houses because of her interest in the structural possibilities of cloth. The art historian Susan Sidlauskas included Yeohlee in her landmark fashion exhibition at M.I.T., "Intimate Architecture." The exhibition featured designers who described and approached their process of dressmaking in essentially architectonic terms. It is something of a paradox, then, to look at her work and see softly draped textiles in seemingly simple, almost paradigmatic, clothing forms: a sheath, a chemise, a T-shaped coat, and narrow pants. In effect, Yeohlee's architecturally informed conceptualization is masked by her insistence on the prioritization of a textile's inherent hand and drape. It is in the study of her flat pattern pieces that her mapping of territories of the body, like the plan of a building, clearly emerges.
On notable occasions, however, Yeohlee does employ textiles of an assertive character to create sculptural forms more clearly indicative of her spatial and temporal interests. With the "Bellows" dress, the stiffened grain lines of the metallic cloth fortify the arcing fullness of the back. Typically Yeohlee is the ambiguous nature of the effect, both organic in its cocoonlike suppleness and futuristic in its industrial, high-tech gloss. Unlike the similarly silhouetted sack dress first proposed by Cristobal Balenciaga in the mid-1950s, this design is imbued with a body consciousness absent in the original because Yeohlee excised the fullness at the front of the dress to make it cleave to the body.
The construction of the Bellows dress is a response to, and relies on, the inherent structure of the silk/metal fabric. The material was the enabler and Gaudí, in his use of simple geometry to create complex forms, the inspiration.

—Yeohlee