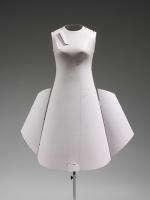 Hussein Chalayan (English, born Cyprus, 1970). "Remote Control Dress," spring/summer 2000 (edition from 2005). Pink fiberglass; pink nylon tulle. Purchase, Friends of The Costume Institute Gifts, 2006 (2006.251a–c).
Hussein Chalayan's collections are an articulation of his immediate conceptual and philosophical preoccupations as well as his fascination with materials and techniques as they might be applied to his métier. Chalayan is an artist whose extraordinary intellectual rigor is supported by an equally vigorous pursuit of perfected technique. Engaged by issues of gender, politics, science, nature, and history, Chalayan informs his presentations with designs that are often less apparel than they are sculptures; on other occasions, an iconic dress form is an actor, as in his meditation and commentary on the burka, and what is ordinarily a commercial presentation is transformed into a performance piece or installation art.
This dress is a later edition of one that was first shown in Chalayan's spring/summer 2000 collection. Like the original, it is made out of a composite material created from fiberglass and resin cast in a specially designed mold. Also like the original, it has side and rear flaps that open to reveal a mass of frothy pink tulle. While these flaps are operated manually in this model, in the original they were operated mechanically by remote control. The prototype was, itself, a permutation of two earlier models in which Chalayan explored ideas about the relation between nature, culture, and technology. Chalayan's description of all three models as "monuments," not because of their rigid form but because they are "monuments to ideas," is as much a comment about his process as his practice of design.
The concept for this spring/summer 2000 collection focused on the relation between mankind, technology, and nature, and the designs in the collection represent those various forces. The "Remote Control" Dress was operated by a boy who came onto the catwalk with a remote control. His electronic instructions opened up the panels of the dress to reveal the soft tulle inside.

The idea of directing living beings with a simple remote-control system was a lighthearted hint at the human tendency to want to control life as well as our sometimes exaggerated expectations of technology.

—Hussein Chalayan