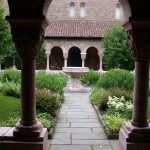 Welcome to The Medieval Garden Enclosed, a blog dedicated to the plants and gardens of The Cloisters, a branch of The Metropolitan Museum of Art. Enter and explore the role of plants and gardens in medieval life and art, learn how to find and grow medieval herbs and flowers, discuss the long histories of many familiar garden plants, discover which roadside weeds were once valued medicinals, and encounter legendary plants like the mandrake (Mandragora officinarum.)
Medieval gardens were enclosed for practical purposes???to keep out animals and intruders, for one???but the enclosure might also have had a religious function or a symbolic significance. The literal meaning of the Latin term hortus conclusus is "garden enclosed." It was both an epithet given to the Virgin Mary in the Middle Ages, and one of her most important attributes. The Virgin was often depicted and described in such a garden setting. Nowadays, the term is more loosely used to describe all small enclosed gardens of the Middle Ages, or is even applied to modern gardens of the medieval type.
The Gardens of The Cloisters
A cloister is a square or rectangular open-air courtyard surrounded by covered passageways. The word "cloister" derives from the Latin claustrum, "a closed, barred, or bolted place." The yard enclosed within the arcades is known as a garth. "Garth" is a Middle English dialect word for the fenced ground around a dwelling. Thus "cloister garth" is a doubling of the sense of enclosure. In a medieval religious establishment, the cloister garth provided a sunny, sheltered space where the monks or nuns, who lived apart from the world, could enjoy nature without leaving the confines of the monastery or convent.
Each of the three gardens planted in the reconstructed Romanesque and Gothic cloisters of the Museum has its own character. Cuxa Cloister Garth Garden is the main ornamental garden at the Museum, and is planted with a combination of modern garden plants and medieval herbs. Bonnefont Cloister Herb Garden is the main teaching garden, and is home to the greater part of the medieval plant collection; the herbs growing there are assigned to their beds by use. Trie Cloister Garden is planted as a single field of herbs and flowers, and evokes the verdant grounds of medieval millefleurs tapestries.
The Medieval Gardens Blog
The gardens of the Middle Ages included both real and ideal gardens: the kitchen garden and the Garden of Love, the cloister garth and the Garden of Eden. We look forward to including discussions of both the practical and the allegorical here in The Medieval Garden Enclosed. We welcome your participation as a reader, commenter, and frequent visitor to this hortus conclusus.
???Deirdre Larkin
Tags: Bonnefont Garden, Cuxa Garden, garth, hortus conclusus, Trie Garden