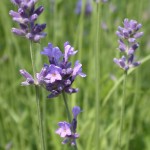 Above: Lavandula angustifolia in Bonnefont Cloister Herb Garden
The scent of lavender has always represented the quintessential fragrance of the herb garden to me. This sweet, full-bodied aroma has the magical ability to conjure up special memories and associations with the past and present. Although this fragrance may seem magical, it also serves a very important biological function for the plant and the ecosystem in which it exists. The aroma of the flower attracts insects that share a symbiotic relationship with the plant. Bees???the most important of these insects???are integral in the pollination of lavender. They serve as pollen vectors between male and female flower parts.
The complex fragrance of lavender is created by the merging of roughly 180 chemical constituents. These chemicals vary greatly among different members of this genus and contribute to the commercial value of a particular species. The essential oil of lavender is the most commercially important product of this plant. It is used in cosmetics, insect repellents, and an assortment of aromatherapy products. Additionally, it has been proved that lavender oil has powerful properties as an antiseptic. Lavandula angustifolia produces the most valuable oil and is used in expensive perfumes and cosmetics. The oil of Lavandula x intermedia is often used as an affordable replacement for L. angustifolia (Tim Upson and Susyn Andrews, The Genus Lavandula, 2004).
???Kevin Wiecks
Tags: essential oil, fragrance, herb, Lavender