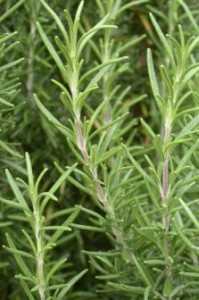 Above: A closer look at rosemary (Rosmarinus officinalis).
Most people who try to overwinter rosemary (Rosmarinus officinalis) inside are familiar with powdery mildew, Erysiphe sp. Similar to the whitefly I discussed in the earlier post, this fungus is favored by the indoor conditions that are typically provided in attempt to overwinter rosemary.
There are several different types of fungi that share the common name "powdery mildew." Although they may appear similar, these different species affect different plants. For example, the fungus that you find on your rosemary is different than the one you find on your zinnias. When powdery mildew is problematic outdoors, seasonal crop rotation is recommended. This breaks the relationship between the host plant and parasite.
Powdery mildew is favored by warm days, cool nights, humidity above 90%, and lower light conditions with ideal temperatures between 68 to 96 degrees Fahrenheit. It appears as a white or gray dust on the leaf surface. The fungus is a parasite, which survives solely on the nutrients it takes from the host plant. If allowed to progress, this can lead to a rapid decline in health. Symptoms include yellowing, distorted growth, leaf drop, and decreased flower production.
Breeders have worked diligently to produce powdery mildew???resistant plants. Unfortunately, there has yet to be any success with rosemary. However, plants in good health are generally more resistant to any parasites and have a better chance of defending themselves until a parasite is detected and treated.
There are many safe and effective treatments for powdery mildew, all of which will have greater success the earlier they are applied. Bicarbonates have become a popular ingredient in many fungicides treating powdery mildew. Home gardeners???including my late grandmother???have used this for years in the form of baking soda and dish soap. Recent research is showing that this practice is not only preventative, but also helps eliminate existing fungi. The only problem with this treatment is the appearance of the residue: it leaves behind a white powdery film that looks similar to the original fungus. For that reason, we have been treating the powdery mildew on our rosemary with neem oil.
Neem oil has been our most successful treatment for powdery mildew to date. After some experimentation to find the most effective concentration, it seems to control the fungus completely after one to three treatments.
???Kevin Wiecks
References:

Ball, Jeff, and Liz Ball. Rodale???s Flower Garden Problem Solver. New York: Rodale Press, 1990.

Yepsen, Roger. The Encyclopedia of Natural Insect and Disease Control. New York: Rodale Press, 1984.

Smith, Miranda, and Anna Carr. Rodale???s Garden Insect, Disease, and Weed Identification Guide. New York: Rodale Press, 1988.

"Powdery Mildew Factsheet," Cornell University (February 11, 2009).
Tags: herb, Neem oil, organic, pest, powdery mildew, rosemary, Rosmarinus officinalis