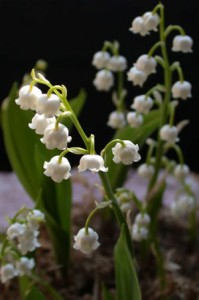 Above: Lily of the valley (Convallaria majalis)
White coral bells upon a slender stalk
Lilies-of-the-valley deck my garden walk. . . .

???Traditional English Round
In spite of its medieval association with the exotic Queen of Sheba (see last week's post), this modest, northern European woodland flower is actually as easy to grow as it is familiar.
Lily of the valley (Convallaria majalis) does best in full or partial shade, although it prefers deeper shade. While it tolerates a wide range of soil conditions, a moist soil emended with organic matter is best. Established colonies don???t need to be divided to continue to flower well, and many old plantings persist for many years. The shoots that appear on the creeping rhizomes, known as pips, can be divided and planted in the fall or spring. Because of its spreading habit, lily of the valley is not a good candidate for borders, but is best used as a ground cover under trees, where its propensity to spread is a virtue rather than a vice.
Although the pure white bells and clean green leaves, in combination with its enchanting fragrance, are what most endear lily of the valley to its many admirers, there are a surprising number of variations on the theme. Some of these are more often read of in gardening literature than seen in nurseries, although specialist growers can and do supply them.
There is a double-flowered variety called 'Flore-Pleno,' a larger-than-life variety called 'Fortin???s Giant,' and a pink-flowered variety known as C. maialis 'Rosea.' The most intriguing forms are the ones with variegated foliage: 'Hardwick Hall' has gold margins on the leaves; 'Aureovariegata,' (also known in the trade as 'Striata,' 'Lineata,' and 'Variegata') has leaves striped with gold. I???ve seen photographs of 'Albostriata,' which has very dark green leaves with slender whitish-green stripes. It looks like a very handsome plant (it somehow seems less feminine than the species), but I???ve never seen it in the flesh. Does anyone know or grow it?
???Deirdre Larkin