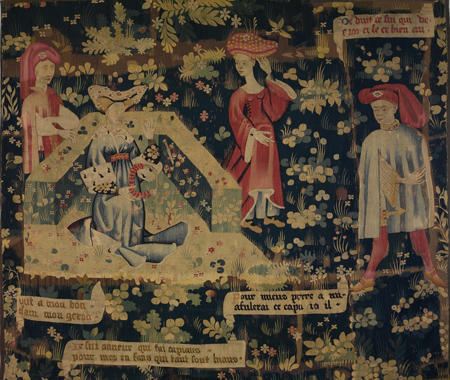 Above: Honor Making a Chaplet of Roses, ca. 1425???1450. South Netherlandish. Wool warp, wool wefts; 93 x 108 in. (236.2 x 274.3 cm). The Metropolitan Museum of Art, New York, The Cloisters Collection, 1959 (59.85). See the Collection Database to learn more about this work of art.
The theme of this year's Garden Days at The Cloisters is the relationship between women and gardens, real or imaginary, in the Middle Ages. Please join me at noon on Saturday, June 4, and Sunday, June 5, for enticing views into the hortus conclusus of the Virgin Mary, the convent cloister garth, and the delightful pleasure grounds of medieval romance, inhabited by elegant ladies. In Bonnefont garden, we'll focus on women's role in practical horticulture and on plants in medieval health, healing, beauty, and housekeeping, especially herbs mentioned in the works produced by the brilliant twelfth-century Benedictine abbess Hildegard of Bingen and those attributed to the legendary Dame Trotula of Salerno.
In addition to this special gallery/garden talk, you'll have the opportunity to meet the gardeners, enjoy tours of the gardens, hear readings from the Romance of the Rose, participate in a family workshop, and see a demonstration of medieval embroidery techniques.
Learn more about the programs scheduled for June 5 and 6.
I'll post again after the event and a short break.
???Deirdre Larkin
Tags: Dame Trotula, Garden Day, Hildegard of Bingen, hortus conclusus, Virgin Mary