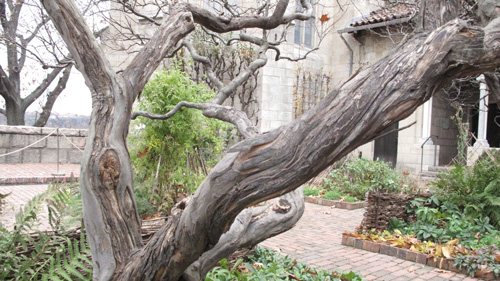 Now that this??veteran quince has regained vigor and the branches have grown thicker, the bark is splitting under the pressure of the increased diameter. The plates formed by the??exfoliating bark add to the beauty and ornamental value of the tree.
The beloved and beautiful quartet of quince (Cydonia oblonga) trees at the center of Bonnefont garden, an iconic image of The Cloisters worldwide, was showing??its age when I first came to The Cloisters as consulting arborist in 2007. The trees were nutritionally deprived, had suffered from both summer and winter drought, and were subject to several fungal diseases, as well as insect infestations, especially apple maggot. (For information on organic methods for controlling this orchard pest, visit the Cornell website.) The trees were defoliating early in the season, further depriving them of energy and water.
The provision of proper nutrients, the application of a pine-sap based anti-transpirant to alleviate drought stress, and the removal of the fruit to conserve energy as the trees recuperate, have all added to increased stem growth, leaf retention, and disease resistance.
Trees do not invest in wood production when very stressed. Now that the trees are healthier, they are investing energy in wood growth. Although this stressed tree did put on annual growth rings, the rings were very small.?? As the trees have resumed healthy growth, larger rings have formed, and the increased diameter has literally split the old bark.
Some??leaves are still on the quince in November. The prolonged retention of the foliage has contributed to the vigor of the trees. The beautiful and dramatic mosaic of shedding bark is a sign of renewal that I'm very happy to see.
???Fran Reidy
Fran Reidy is consulting arborist to The Cloisters, and is engaged in rejuvenating and sustaining the trees in the gardens and on the grounds.
Tags: apple maggot, bark, Cydonia oblonga, drought, fungal, insect, plating, quince