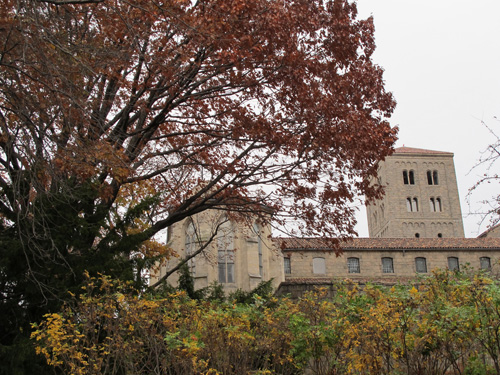 An Eastern black oak (Quercus velutina) outside The Cloisters.?? Photograph by Theo Margelony
Its wood is strong and hard and durable. Its beams supported high roofs over castles and churches. Its boards closed off doorways and gateways, denying passage to all but the most obstinate or determined, and were used to create interior floors from small chambers to large halls. Panels of it were shaped and carved into chests and choir stalls. Its planks were worked into ships and bridges, wagons and carts. It might be coppiced or pollarded (see "Coppicing and Pollarding," March 4, 2011) for the strong, supple whips it produced. While not edible directly, its acorns provided rich nourishment for swine as they were driven into the forest in the fall to feed and fatten on the annual bounty in time for winter (see "Pigs and Pannage," November 13, 2009). In fields and along roads, its strong branches stretched out wide overhead to provide shade and shelter for simple farmers and noble travelers alike. It seems almost as if the great oak of the forest supported the entire medieval world.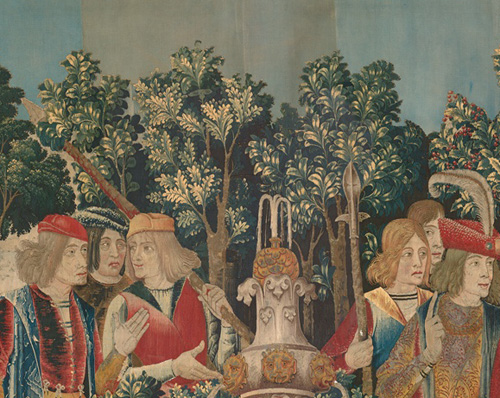 Detail of oak trees in The Unicorn Is Found (from the Unicorn Tapestries), 1495???1505. The Metropolitan Museum of Art, New York, Gift of John D. Rockefeller Jr., 1937 (37.80.2).
In heraldry, the oak is the tree and the tree is the oak. It's seen as a symbol of strength and endurance; even its leaves display a tenacity, less easily shed in the fall than the leaves of other trees. Lesser heraldic species, such as the linden or the holly, must be mentioned by name, despite being readily recognized. A tree without any other description is always assumed to be an oak. Like most heraldic charges, the heraldic oak is depicted in an abbreviated, stylized form that makes for quick identification on shield or flag intended to be seen from a distance. A few branches of its characteristic leaves are all that need to be shown. However, those characteristic leaves are always the wavy, round-lobed ones of the pedunculate oak, Quercus robur (see image), perhaps best known to most people as the English oak. In spite of its name, it's native to a wide stretch of Europe from the British Isles to Asia Minor, from the Caucasus to North Africa. The sharply pointed leaves of a New World oak species, such as the American red oak (Quercus rubra), unknown as it was during the birth of heraldry in the Middle Ages, are never represented. Even if they were, red oak leaves would run the risk of being mistaken for holly leaves in heraldry.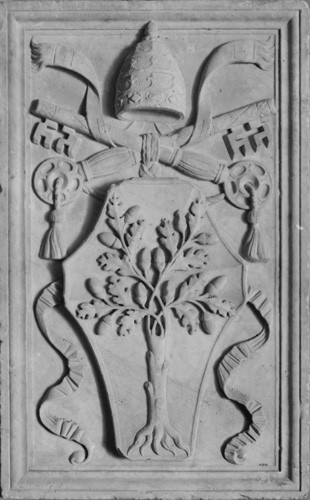 Arms of Pope Julius II, early 16th century. The Metropolitan Museum of Art, New York, Rogers Fund, 1918 (18.70.32). The oak on this shield is eradicated, a typical heraldic convention in which the roots are exposed as if the tree had been pulled from the ground.
So recognizable are the outlines of an oak tree's leaves in heraldry that the inclusion of the equally recognizable acorns in its branches is optional. When a heraldic tree is shown with fruit it's described as "fructed." The heraldic oak bearing fruit, however, in keeping with its preeminent status, is said to be "acorned." Trees in heraldry are frequently depicted as growing from the ground, on the shield as in nature, usually either from a flat line across the base or from a rounded mount. If a tree appears to float freely on the surface of the shield, it is depicted as eradicated???a style in which the tree's roots are visible (as if uprooted from the Earth and shaken clean) and extend out in decorative tendrils to fill what would otherwise be empty space at the bottom of the shield.
In addition to the whole tree, parts of the oak also appear in coats of arms. Oak branches are frequently seen and again, if they are fructed with acorns, they're said to be acorned. Simple oak leaves are also common on the shield, as are its acorns. Unlike the whole oak tree, however, the identity of its parts is oddly not left to assumption and is usually specifically stated. As with many things heraldic, an oak tree, sprig, or leaf might be called "proper." In spite of the tree's upright reputation, the term doesn't refer to any special propriety but rather that its heraldic color is the natural one: A "leaf proper" is vert, the heraldic term for green. Of course, other colors also occur, and heraldry has its own Red, Black, and Golden Oaks (Gules, Sable, and Or.) It even does nature one better by adding Blue, or Azure Oaks.
See the list of previous posts in my series The Garden in Heraldry.
???R. Theo Margelony, Associate Administrator, Department of Medieval Art and The Cloisters