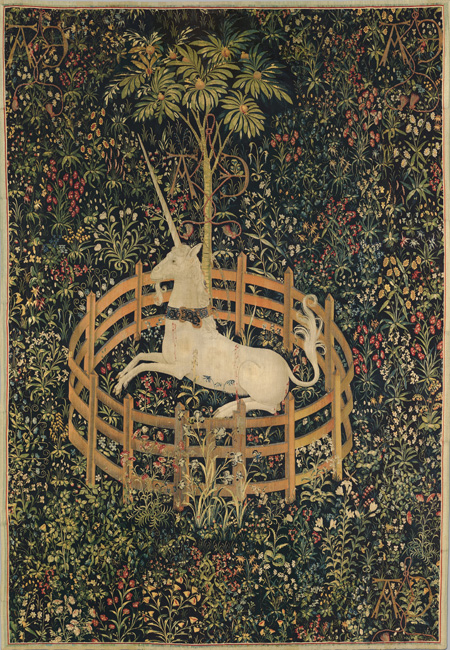 The Unicorn in Captivity, 1495???1505. The Metropolitan Museum of Art, New York, Gift of John D. Rockefeller Jr., 1937 (37.80.6). The profusion of flowering plants that springs from the millefleurs meadow on which the unicorn rests includes both garden plants and wildflowers. An iris and a clove pink are prominently placed outside the unicorn's enclosure; both were intensively cultivated in the Middle Ages, but the purple orchis silhouetted against the unicorn's body depends on a special relationship with microorganisms in its native soil and would not have grown in gardens.
Roses, lilies, iris, violet, fennel, sage, rosemary, and many other aromatic herbs and flowers were prized for their beauty and fragrance, as well as their culinary and medicinal value, and were as much at home in the medieval pleasure garden as in the kitchen or physic garden. These plants were carefully cultivated, but many useful plants of the Middle Ages were found outside the garden walls, or admitted on sufferance.
Unlike the iris and the pink that flourish outside the enclosure, the little cuckoo-pint that peeks out between the rails on the right side of the corral is a wild plant of woodland and hedgerows. Arum maculatum is a highly significant plant in European folklore, and bears many suggestive names, such as Adam and Eve, lords and ladies, cuckoo-pintle, and wake-robin.
Lettuces and other garden salads were supplemented with wild greens. The coleworts and pulses that were the staples of the medieval diet were augmented by the purslane and lamb's quarters that grew unbidden in the fertile soil of well-manured vegetable beds. [See "Colewort and Kale" (October 22, 2010) and "Weed Eating" (October 29, 2010.)]
A lovingly rendered milk thistle (Silybum marianum) flourishes nearby a magnificent white lily (Lilium candidum). The lily was rivaled only by the rose as a sine qua non of the medieval garden; while several thistles were valued medicinally, they would have been gathered, not grown.
A plant deemed to be a noxious weed in a garden context might be a valued medicinal plant in its own right: Walahfrid Strabo, wielding a mattock, begins the garden year with a ruthless onslaught on the stinging nettles that cover his patch of earth, preparing the soil before sowing seed and renewing his stock of lilies, roses, iris, poppies, herbs, gourds, and melons. This same nettle, a nuisance in the garden, had been valued for centuries as a fiber plant, a food, and a medicament. (For more information on Walahfrid Strabo and his garden poem, the Hortulus, see http://wyrtig.com/EarlyGardens/Continental/Walafrid/Hortulus.htm. For more on nettles (Urtica dioica), see "Grasping the Nettle" (April 28, 2011.)
The relative roles of wild and cultivated species in the life and art of the Middle Ages is the theme of this year's Garden Days, June 2 and 3. We hope you'll join us in this wide-ranging exploration of the medieval plant world.
Tags: colewort, Fennel, gourd, herb, Hortulus, iris, kale, lamb's quarters, lettuce, lily, melon, nettle, poppy, pulse, purslane, rose, rosemary, sage, violet, Walahfrid Strabo