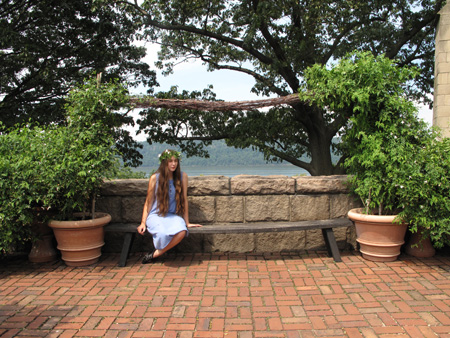 Arbors covered with vining or climbing plants, also called bowers, were a common feature of medieval pleasure gardens, and women are often shown seated in their shade. Maggie Fitzpatrick, summer intern in the gardens, rests from her labors under a fragrant jasmine bower in Bonnefont garden. The jasmine, grown in terra cotta pots, twines up and around a structure of birch poles and birch brush, lashed together with copper wire and finished with barked wire.?? Photograph by Carly Still
Arbour, arbor, n. A bower or shady retreat, of which the sides and roof are formed by trees and shrubs closely planted or intertwined, or of lattice-work covered with climbing shrubs and plants, as ivy, vine, etc. Forms: ME???15 erber (e, herber(e, ME herbier, erbor, arbre, ME???15 arber, 15 herbor, harber, herbour, arboure (all obs.), 15??? arbour, arbor. (The original characteristic of the ???arbour??? seems to have been the floor and ???benches??? of herbage; in the modern idea (since 16th c. at least) the leafy covering is the prominent feature.)

???OED Online. June 2012. Oxford University Press: http://0-oed.com.library.metmuseum.org/view/Entry/10234 (accessed August 9, 2012).
Arbors covered with vines or roses are frequently depicted in medieval garden representations, often in conjunction with a turf bench or garden seat. Elegant ladies are shown taking their ease, or the Virgin and Child are shown seated in state, as in Stefan Lochner's famous Madonna of the Rose Bower in Cologne. (For more on turf benches, see "A Green Place to Rest," March 15, 2010.) The name "arbor" does not derive from the Latin arbor, meaning tree, but from the Middle English herber, a small enclosed garden. Such arbors are also called "bowers," a name sometimes given to a lady's private apartment. Just as herber might designate both an arbor and a small garden, "bower" might refer to both a shady retreat and a private garden, especially a woman's garden. Bowers figure in medieval and Renaissance literature and??drama as well as art. See Joanne Findon's article "Napping in the Arbour in the Digby Mary Magdalene Play" in Vol. 9, Issue 2 of Early Theatre: A Journal Associated with Records of Early English Theatre.
The most famous "bower" of all is the "Bower of Bliss" in Book II Canto XII of Edmund Spenser's??allegorical poem The Faerie Queene, a sensual paradise to which the deceitful sorceress Acrasia attempts to lure?? Guyon, the Knight of Temperance.?? He overcomes temptation and destroys the Bower.
Our jasmine bower is located on a raised terrace in Bonnefont garden, and was made by erecting a structure of birch poles and twigs, reinforced with wood screws and lashed together with copper wire. (Copper is easy to work with and quickly oxidizes to a dark brown color that blends very well with wood.) This is the second year we've made the bower, and we've learned to make it stronger and more stable, since the wind off the Hudson River can gust so strongly that a lightweight structure is blown over. The birch poles that form the uprights are lashed together and inserted deep into the grouped terra rossa pots in which the jasmine is planted. A crosspiece of birch twigs bound with barked wire is set into the forks where the uprights cross, and tied into the frame. As the jasmine grows, it twines around the structure, and shoots are tucked back in so that they knit into the main stems and form a dense, sturdy screen. The bower comes into full bloom in July and will continue to flower well into October, diffusing a delightful perfume throughout the garden.
Other climbing plants can be used to cover arbors in the medieval style. Dr. Sylvia Landsberg, who has re-created several medieval gardens in England, including Queen Eleanor's Garden at Winchester, gives instruction for making a vine arbor in her book The Medieval Garden, which includes both historical information and practical advice on making medieval garden features.
(For more about jasmine in the Middle Ages, and the kinds grown here at The Cloisters, see "Yasimin, Jessamine," September 11, 2008, and "Jasmine Goes West," Friday, September 19, 2008.)
???Deirdre Larkin