Cowslips of Jerusalem, or the true and right Lungwoorte, hath rough, hairie, & large leaves, of a browne greene colour, confusedly spotted with divers spots or droppes of white: amongst which spring up certain stalks, a span long, bearing at the top many fine flowers, growing together like the flowers of cowslips, saving that they be at the first red or purple, and sometimes blewe, and oftentimes of all these colours at once.

???John Gerard, The Herball, or General Historie of Plants, 1597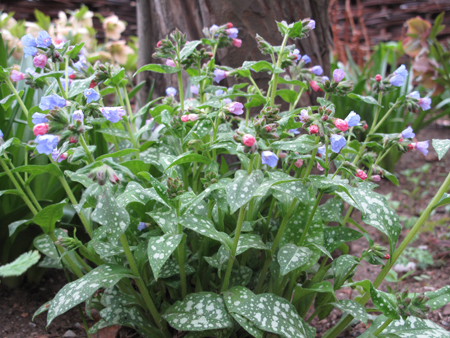 The common lungwort or pulmonaria, growing under one of the veteran quince trees in Bonnefont garden. Native to central Europe, but widely naturalized, the early blooming lungwort is a denizen of damp, deciduous woodlands and hedgerows. The characteristic silvery-white spots scattered on its leaves were a sign of its medicinal value in treating lung complaints. Lungwort was already a common garden plant by the sixteenth century and many ornamental cultivated forms are now grown. Photograph by Carly Still

The reputation of lungwort is not as ancient as that of some other medieval medicinal herbs. No mention is made of pulmonaria in the De Materia Medica of Dioscorides; Jerry Stannard, an authority on the medieval pharmacopeia, identifies the consiligo described by the Roman natural historian Pliny the Elder as Pulmonaria officinalis, although others have conjectured that it was a species of hellebore. According to Pliny, roots of this herb had only recently been discovered in medicinal use among the Marsi, an ancient Italic tribe. Pliny notes that consiligo is beneficial in grave cases of tuberculosis, and is a sovereign remedy for lung trouble in livestock, even when simply placed across the animal's ear (Historia Naturalis, XXVI.38). The characteristic spotted leaves and variable flowers of pulmonaria are beautifully depicted under that name in the Erbolario Bergamense, compiled by Master Antonio Guarnerio of Padua in 1441. The University of Padua was a center for the study of medicinal herbs, and the Orto Botanico, the first botanical garden in Europe, was established there in 1545.
Among other Latin names, pulmonaria was known in the Middle Ages as pulmo lupi, "wolf's lung," and lac benedictae virginis. The poetic notion that the milk of the Virgin had fallen on the leaves and spotted them white was applied to another medieval herb with mottled foliage, the milk thistle, Silybum marianum. Also called cowslips of Jerusalem or Jerusalem sage, lungwort had many local English names, such as "Abraham, Isaac, and Jacob," or "Josephs and Maries," derived from the differently colored flowers found blooming on a single plant. (For more on milk thistle, see "Another Thistle," July 26, 2008.)
The twelfth-century authoress of the Physica, Hildegard of Bingen, knew the plant as lunckwurcz:
Lungwort is cold and a bit dry and not much use to anyone. Nevertheless, one whose lung is swollen so that he coughs and can hardly draw a breath should cook lungwort in wine, and drink it frequently, on an empty stomach. He will become well.

???Physica, XXIX
Observing that sheep that feed on lungwort grow fat and healthy, without harm to their milk, Hildegarde avers that lungwort returns afflicted lungs to health because the lung has the nature of a sheep! (For more on Hildegard, see "Mutter Natur," October 15, 2010.)
A member of the borage family, lungwort has the hairy leaves and variable flower color characteristic of the Boraginaceae. Photographs by Esme Webb
Like the coltsfoot that was the subject of my last post, lungwort's relatives borage and comfrey contain pyrrolizidine alkaloids that are damaging to human liver tissue; there seems to be some question as to the presence of these alkaloids in Pulmonaria officinalis.
???Deirdre Larkin
Sources:
Grigson, Geoffrey. The Englishman's Flora. 1955. Reprint: London: J. M. Dent & Sons, 1987.
Pliny. Natural History, Vol. VII, Books XXIV???XXVII. Translated by W. H. S. Jones. Cambridge, MA: Loeb Classical Library, 1956, reprinted 1966, revised 1980.
Stannard, Jerry. Pristina Medicamenta: Ancient and Medieval Medical Botany. Ed. Katherine Stannard and Richard Kay. Brookfield, VT: Ashgate, 1999.
Throop, Priscilla, transl. Hildegard von Bingen's Physica: The Complete English Translation of Her Classic Work on Health and Healing. Rochester, VT: Healing Arts Press, 1998.
Tags: borage, Boraginaceae, hellebore, lung, lungworts, pulmonaria, quince