Thursday, August 11, 2011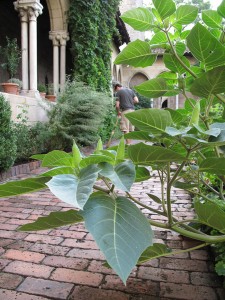 My early morning sweep of Bonnefont garden, overseen by the downy thornapple (Datura metel). Photograph by Corey Eilhardt
A quiet life has many rewards: not least of these
Is the joy that comes to him who devotes himself to the art
They knew at Paestum, and learns the ancient skill of obscene
Priapus???the joy that comes of devoting himself to a garden.

???From Hortulus by Walahfrid Strabo. Translated from the Latin by Raef Payne. The Hunt Botanical Library, 1966.