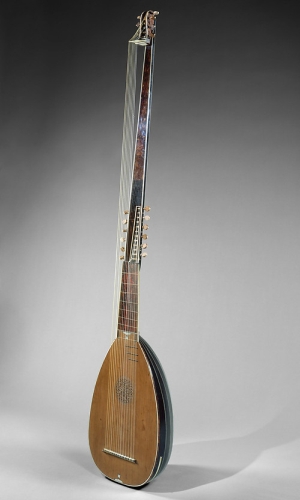 David Tecchler (Austrian, 1666–1747)
Archlute, ca. 1725
Spruce, ebony, ivory, tortoiseshell, mother-of-pearl; 70 3/4 in. (179.7 cm)
The Metropolitan Museum of Art, New York, Purchase, Clara Mertens Bequest, in memory of André Mertens, 1988 (1988.87)
David Tecchler moved from Augsburg to Rome before 1700 and became the most important luthier of his generation in that city. He is best known for his instruments of the violin family; this Tecchler lute is the only one that survives. It is a Roman archlute, a local variant of the long-necked lute, which became popular after the invention of the chitarrone in Florence about 1585. The instrument has six double courses of strings and eight unfretted diatonic bass strings.
Related Link
---
Heilbrunn Timeline of Art History: "The Lute"