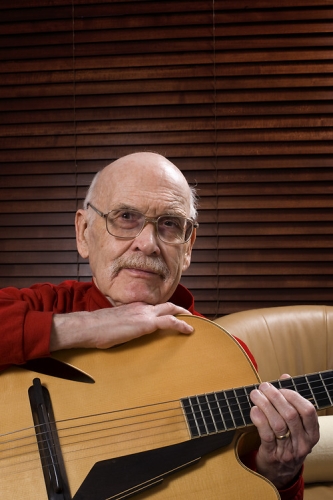 James D'Aquisto (American, 1935–1995)
Archtop Guitar, Avant Garde model, 1989
Spruce, maple, ebony; blonde finish, cutaway; W. 18 in. (45.7 cm)
Jim Hall, New York
Photo © Archtop History, Inc. from the book ARCHTOP GUITARS: The Journey from Cremona to New York by Rudy Pensa and Vincent Ricardel
Beginning in the mid-1980s D'Aquisto moved in a radical direction with the design of his guitars, which mirrored his belief in a simple, clean aesthetic. His philosophy was that the metal and plastic parts and added inlays all negatively affected the acoustics. In 1989 D'Aquisto introduced the Avant Garde, which has an ebony pickguard, bridge, tailpiece, and truss rod cover and dispenses with the celluloid bindings usually found on the body, fingerboard, and headstock. This guitar was made for the jazz icon Jim Hall (pictured), who has played D'Aquisto instruments extensively since the 1970s.
Related Audio
---
"Round Midnight" by Thelonius Monk and Cootie Williams
Performed by Jim Hall (guitar); Don Thompson (bass); and Terry Clarke (drums).
Song Credits
---
"Round Midnight" by Thelonius Monk and Cootie Williams. Lyrics by Bernie Hanighen. This recording: Verve, 1975, re-released 2003.