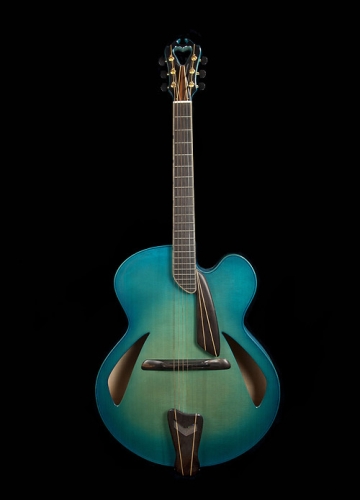 James D'Aquisto (American, 1935–1995)
Archtop Guitar, Blue Centura Deluxe model (serial number 1252), 1994
Spruce, maple, ebony; blue finish, cutaway; W. 18 in. (45.7 cm)
The Scott Chinery Collection
Photo © Archtop History, Inc. from the book ARCHTOP GUITARS: The Journey from Cremona to New York by Rudy Pensa and Vincent Ricardel
In 1994 D'Aquisto delivered a blue Centura Deluxe model guitar to Scott Chinery that would represent one of the last instruments on which the two collaborated. Chinery had been a major proponent of many luthiers who were active at the time and felt that guitar making was undergoing a renaissance. After D'Aquisto's death in 1995, Chinery commissioned other makers to build their own blue archtop guitars. The only restrictions were that the guitars should have an eighteen-inch body and a cutaway. As the Blue Guitar Project developed, it also became a tribute to D'Aquisto, who had inspired many makers. Twenty-two luthiers were chosen to build guitars for the collection, which was exhibited at the Smithsonian Institution in 1998.
Song Credits
---
Blue Bossa written by Kenny Dorham (1963). Arranged and performed by Martin Taylor and Steve Howe (2002). Second Floor Music, 1963. Originally recorded by Joe Henderson, 1963.