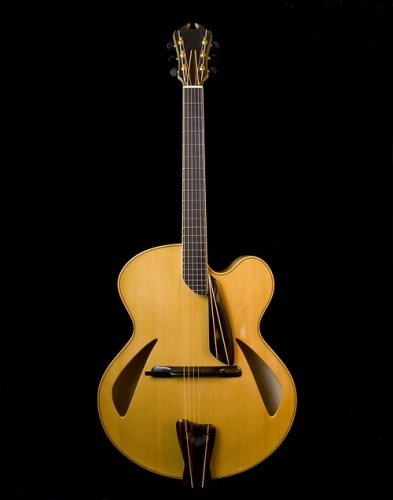 James D'Aquisto (American, 1935–1995)
Archtop Guitar, Centura Deluxe model (serial number 1257), 1995
Spruce, maple, ebony; blonde finish, cutaway; W. 18 in. (45.7 cm)
Rudy Pensa, New York
Photo © Archtop History, Inc. from the book ARCHTOP GUITARS: The Journey from Cremona to New York by Rudy Pensa and Vincent Ricardel
In April 1995, while visiting California to work with Fender on a line of guitars that would carry his name, James D'Aquisto died of an epileptic seizure. He was fifty-nine, the same age at which John D'Angelico had died more than three decades earlier. At the time, two guitars remained virtually finished, hanging in the spray booth in his workshop—a Centura and a Centura Deluxe. Both models feature distinctively shaped sound holes that are nearly triangular and have headstocks with broken pediments, echoing a feature found on Italian American instruments dating back more than a century. The Centura has a seventeen-inch body, while the Centura Deluxe is eighteen inches and also has two decorative inlaid lines on the tailpiece, pickguard, and headstock. Later owners of the instruments had them finished by the luthier John Monteleone.
Related Performances
---
| | |
| --- | --- |
| Steve Miller plays an improvisation on the 1995 Centura Deluxe by James D'Aquisto. Recorded October 21, 2010, at The Metropolitan Museum of Art. | |