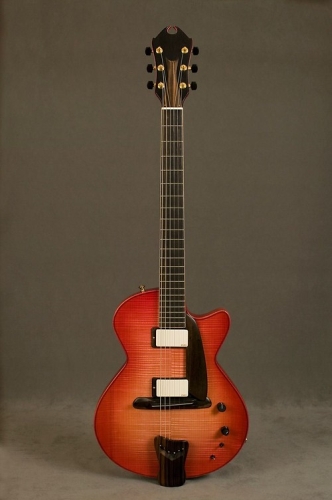 James D'Aquisto (American, 1935–1995)
Electric Guitar, Electric Centura model (serial number 495C), 1994
Maple, ebony; red finish, cutaway; W. 14 in. (35.6 cm)
Steve Miller
The musician Steve Miller met James D'Aquisto when he was searching for a large archtop guitar for playing jazz. The two became friends, and Miller eventually asked D'Aquisto to build him a solid-body electric guitar. The collaboration continued until D'Aquisto's death and resulted in a number of guitars, both electric and acoustic, built specifically for Miller, who has played them extensively.
Related Interview
---
Steve Miller talks about James D'Aquisto (Transcript)