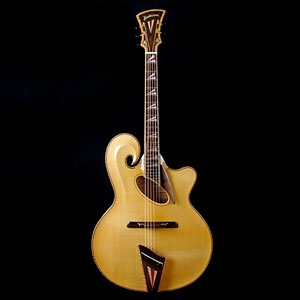 John Monteleone (American, b. 1947)
Archtop Guitar, Grand Artist Tri Port model (serial number 185), 1999
Spruce, maple, ebony, mother-of-pearl; blonde finish; W. 18 in. (45.7 cm)
Private Collection
Photo © Archtop History, Inc. from the book ARCHTOP GUITARS: The Journey from Cremona to New York by Rudy Pensa and Vincent Ricardel
The unusual shape of this guitar pays tribute to Monteleone as a mandolin builder but also gives the body a larger resonance chamber and a distinctive tone. The Tri Port includes many of Monteleone's guitar innovations, such as his idea for side sound holes, which allow the player to hear the sound of the guitar as the audience experiences it, and the central elliptical sound hole on the top that is positioned at an angle allowing the internal tone bar to be optimally placed for overall balance of the instrument.
Related Interview
---
John Monteleone talks about the guitar as an art object (Transcript)