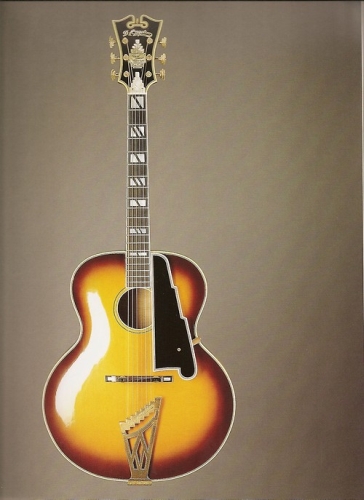 John D'Angelico (American, 1905–1964)
Archtop Guitar, Lou Monte New Yorker model (serial number 2150), 1963
Spruce, maple, ebony, brass, celluloid, mother-of-pearl; sunburst finish; W. 17 in. (43.2 cm)
Drs. Faye & Jonathan Kellerman
This custom guitar is a one-of-a-kind instrument that D'Angelico designated as a Lou Monte New Yorker model for Lou Monte, the New York Italian American singer who was well known for his novelty songs, including "Dominick the Donkey" and "Pepino the Italian Mouse." This guitar, with an unusual round sound hole instead of the typical f-holes, is one of the last guitars that D'Angelico built and was made in the last year of his life.
Related Interviews
---
Bob Grillo remembers meeting John D'Angelico and discusses his D'Angelico guitar (Transcript)