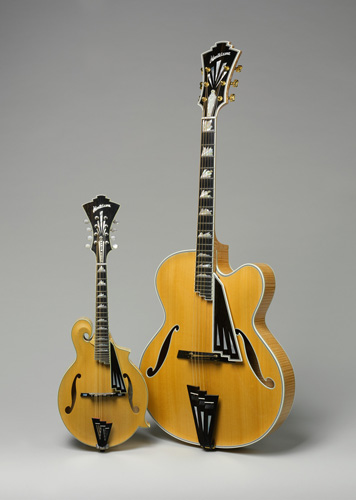 John Monteleone (American, b. 1947)
Archtop Guitar and Mandolin, Radio City models (serial numbers 159 and 201), 1995
Spruce, maple, ebony, celluloid, mother-of-pearl; blonde finish; guitar: W. 18 in. (45.7 cm); mandolin: L. 28 in. (71.1 cm)
Private Collection
New York City's architecture has inspired several of Monteleone's designs, including both the Radio City model guitars and mandolins. Although not intended as a set, both instruments were inspired by the Art Deco features of Radio City Music Hall, which Monteleone admires both because of its architecture and its symbolism as a great performance venue. The most obvious inspiration is the inlaid geometric pieces of celluloid that form a fan on the headstocks, which are suggestive of the proscenium of Radio City's stage. The fan motif is repeated in part on the pickguards, tailpieces, and inlays on the fretboards.
The guitar is nicknamed "Marilyn" because of a dimple on the wood used to make the back of the instrument, which reminded John Monteleone of Marilyn Monroe. Alongside his signature inside the instrument is a red "kiss."
Related Performance
---
Woody Mann plays "Requiem" on the Radio City archtop guitar, 2000 by John Monteleone. Recorded August 12, 2010, at The Metropolitan Museum of Art.
Related Interview
---
John Monteleone explains his inspirations for the Radio City instruments