James D'Aquisto (American, 1935–1995)
Archtop Guitar, New Yorker Deluxe model (serial number 1055), 1972
Spruce, maple, ebony, brass, celluloid, mother-of-pearl; honey-colored sunburst finish; cutaway; W. 18 in. (45.7 cm)
Joshua R. Tarnow, New Jersey
Photo © Archtop History, Inc. from the book ARCHTOP GUITARS: The Journey from Cremona to New York by Rudy Pensa and Vincent Ricardel
The jazz guitarist Grant Green owned this instrument from 1972 until his death in 1979. Green influenced many players, including George Benson and Stevie Ray Vaughan. He used this guitar on several of his later recordings and Benson owned it after Green died.
Related Photograph
---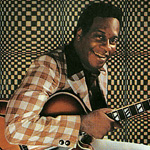 Grant Green with his 1972 D'Aquisto New Yorker Deluxe model archtop guitar (serial number 1055), from the 1976 album The Main Attraction
Related Audio
---
Performed by Grant Green on his New Yorker Deluxe model (serial number 1055) archtop guitar.
Song Credits
---
"Easy" by Lionel Richie, arranged by Grant Green. Published by Brenda Richie Pub, Jobette Music Co, Libren Music ASCAP. Recorded by Green for Versatile, 1978