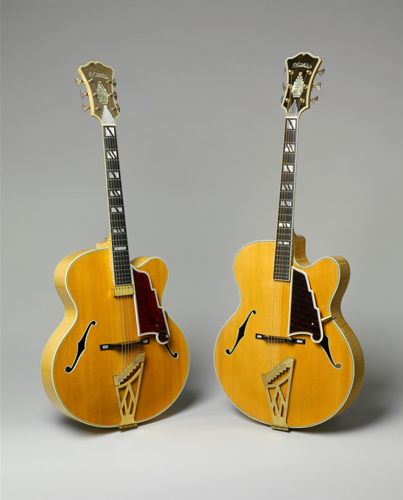 John D'Angelico (American, 1905–1964)
Archtop Guitars, New Yorker models (serial numbers 2049 and 2091), 1958, 1959
Both: Alpine spruce, curly maple, ebony, brass, celluloid, mother-of-pearl; blonde finish, cutaway; 18 in. (45.7 cm); 18 1/8 in. (46 cm)
John Monteleone, Islip, New York (2049)
Private Collection (2091)
The New Yorker Hotel was built in 1929 and opened its doors to the public on January 2, 1930, at 481 Eighth Avenue. It became the inspiration for John D'Angelico's top-of-the-line guitar model called the New Yorker—a designation that also typically meant a large body size of about eighteen inches in width. The decorative appointments on the guitar usually included a stairstep brass tailpiece (gold plated), a celluloid pickguard with a stairstep shape, geometric block mother-of-pearl inlays on the fingerboard, Grover "Imperial" tuners (gold plated), and an inlaid stylized profile of the New Yorker Hotel. The truss rod cover, which allows access to adjust the metal truss rod in the neck, was also inspired by the profile of the hotel. D'Angelico's New Yorkers have multiple thin layers, usually of alternating black-white celluloid binding around the body, f-holes, fingerboard, headstock, and pickguards. The most desirable New Yorkers date from his later period—the mid- to late 1950s until his death—and feature a cutaway that allows a musician to more easily play high on the fretboard.
The New Yorker guitar on the left was owned by George Benson, who recorded with it in the 1970s at about the time the Gibson "Johnny Smith" pickup was added to the instrument. It was restored by John Monteleone.
Related Photographs
---
Left: George Benson with his D'Angelico New Yorker model guitar, ca. 2008. © Archtop History, Inc., from the book Archtop Guitars: The Journey from Cremona to New York, by Rudy Pensa, photographs by Vincent J. Ricardel. Right: Pete Townshend holding his D'Angelico New Yorker guitar on the cover of his 1982 single "Uniforms." Courtesy of Universal Music Enterprises. Photograph by Davies and Starr
Song Credits
---
George Benson, "Summer Wishes, Winter Dreams," by Johnny Mandel, Alan Bergman, and Marilyn Bergman (1973), from the movie Summer Wishes, Winter Dreams. George Benson, CTI 1974. Recording provided courtesy of Sony Music Entertainment.
Related Performance
---


Bob Grillo plays "Estrellita," by Manuel Ponce, 1912, on a Blonde New Yorker by John D'Angelico. Recorded August 11, 2010, at The Metropolitan Museum of Art.


Related Interviews
---
| | |
| --- | --- |
| Jeffrey Mironov remembers buying his first D'Angelico New Yorker (Transcript) | Bob Grillo on each guitar's unique voice (Transcript) |