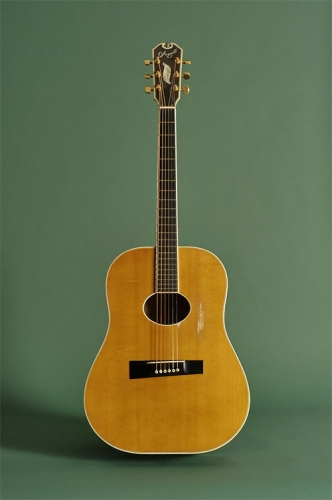 James D'Aquisto (American, 1935–1995)
Flat-top Guitar: Deluxe model (serial number 111), 1980
Spruce, maple, ebony; W. 16 in. (40.6 cm)
Perry A. Margouleff, New York
D'Aquisto's ledger books show that he built at least sixteen flat-top acoustic guitars in several different styles, including this one, which is his take on the traditional dreadnought-style flat top. D'Aquisto also favored an oval sound hole over the more traditional round hole to give the instrument more projection.
Related Performance
---
Jeffrey Mironov plays an original composition on his own flat-top guitar by James D'Aquisto. Recorded August 10, 2010, at The Metropolitan Museum of Art.
Related Interview
---
Jeffrey Mironov discusses the relationship between guitarists and their instruments (Transcript)