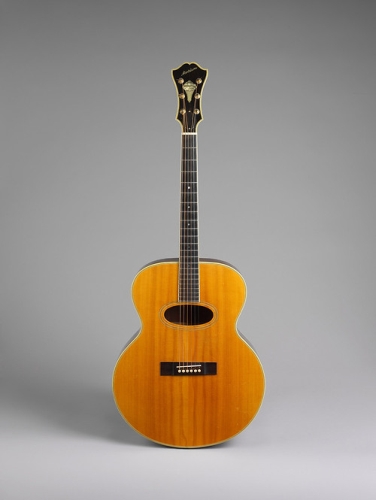 John Monteleone (American, b. 1947)
Flat-top Guitar, Hexaphone model (serial number 106), 1977
Spruce, rosewood, ebony; natural finish; W. 18 in. (45.7 cm)
Joshua Katz, New York
The Hexaphone model guitar is a flat-top version that Monteleone introduced in 1977. The inspiration came from two iconic guitars, the Gibson J-200, which Monteleone admired for its size and design aesthetic, and the Martin OM-45, which he liked for its clear and balanced sound. The result was the Hexaphone, named because Monteleone views it as a six-string speaker cabinet. This example was the prototype built for his own use, which he later sold to his friend and early supporter Michael Katz of New York.
Related Interview
---
Woody Mann explains what it is like to play a Monteleone guitar