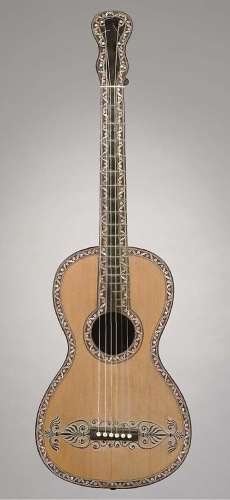 Gennaro Fabricatore (Italian, 1790–1843)
Guitar, 1819
Spruce, maple, ebony, mother-of-pearl, ivory; 7 3/4 x 24 5/8 in. (19.7 x 62.5 cm)
Drs. Faye & Jonathan Kellerman
The six single-course guitar appeared in the late eighteenth century, and Neapolitans were among the first to adopt the form. The Fabricatore family, the most important guitar makers in Naples, standardized its decoration, with a figure-eight-shaped headstock, a deep waist, and mustaches around the bridge. This example has inlaid mother-of-pearl and tortoiseshell bands around the edge of the body, fingerboard, and headstock, with multiple thin layers of ebony and ivory forming the banding on the back and sides.