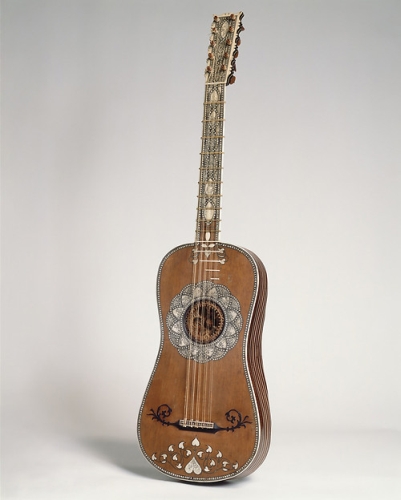 Matteo Sellas (German, ca. 1599–1654)
Guitar, ca. 1630–50
Spruce, bone, parchment, snakewood, ivory; 10 9/16 x 37 5/8 in. (26.9 x 95.6 cm)
The Metropolitan Museum of Art, New York, Purchase, Clara Mertens Bequest, in memory of André Mertens, 1990 (1990.103)
Besides the lute family, many other plucked stringed instruments were produced in the northern Italian schools in the seventeenth and eighteenth centuries. The guitars of the time, now called Baroque guitars, were smaller than later instruments and had five courses (pairs) of gut strings tuned in unison, or octaves, and had gut frets tied to the neck. Nearly all the surviving Baroque guitars are extraordinarily decorated with exotic materials and many have parchment rosettes in their sound holes.
This five-course guitar has a vaulted back with scalloped snakewood ribs and ivory spacers. The back of the neck is inlaid with bone and snakewood squares in a checkerboard pattern. The Sellas family (active in Venice during the seventeenth and early eighteenth centuries) was noted for its highly ornamented lutes and guitars.
Related Link
---
Heilbrunn Timeline of Art History: "The Guitar"