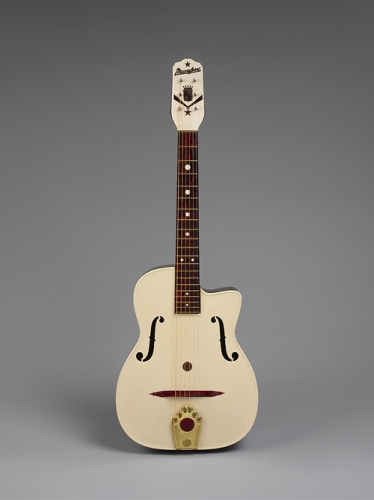 Mario Maccaferri (American, b. Italy, 1900–1993)
Guitar, G-40 model, ca. 1953
Plastic; 7 3/4 x 24 5/8 in. (19.7 x 62.5 cm)
Private Collection
Maccaferri moved to the United States before the outbreak of World War II. By that time, an injury to his hand had curtailed his career as a soloist, and he had entered business as a manufacturer of reeds for clarinets and saxophones. As a result of the war, cane for these reeds was difficult to obtain, so Maccaferri began making them from plastic. That led to the creation of a highly successful manufacturing business in the Bronx, where Maccaferri eventually produced a huge variety of plastic products, from clothespins to wall and floor tiles. He also manufactured plastic instruments, including guitars and ukuleles. The G-40 model guitar was an archtop version, complete with f-holes.
Related Interview
---
John Monteleone talks about Mario Maccaferri (Transcript)