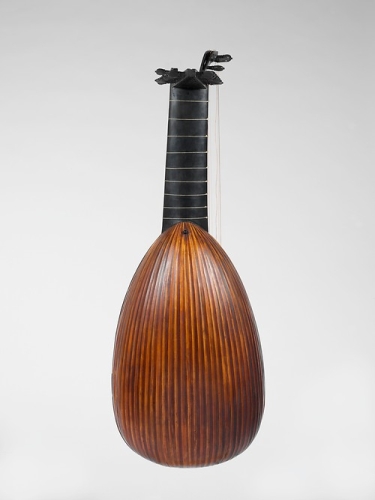 Wendelin Tieffenbrucker (German, active 1570–1610)
Lute, late 16th century
Yew, spruce, ebony, maple; 22 1/16 in. (56 cm)
The Metropolitan Museum of Art, New York, Purchase, Gift of Mr. and Mrs. Robert P. Freedman, by exchange, 1989 (1989.13)
The word luthier is derived from the French word luth, or lute. One of the first centers of lutherie was in Bavaria, in and around the town of Füssen, where there were several families of active makers by the late fifteenth century and a guild was established in 1562. Many Bavarian luthiers moved to cities in northern Italy to escape guild restrictions as well as a series of wars in the sixteenth and seventeenth centuries. In Italy they found large markets for their products and easier access to exotic materials, including ivory, ebony, and snakewood. Italian cities such as Venice and Padua became renowned for their stringed instruments, especially lutes, which were often highly decorated. German luthiers remained active in Italy through the end of the eighteenth century.
The Tieffenbrucker family was one of the most important dynasties of luthiers. In the beginning of the sixteenth century, the family moved from the Bavarian village of Tieffenbruck to Venice; they were active there as well as in nearby Padua, where Wendelin Tieffenbrucker worked. This lute, built as a bass instrument, originally had eight or ten courses and was modified in the eighteenth century to thirteen courses. The back is made of thirty-seven bicolor yew ribs.
Related Link
---
Heilbrunn Timeline of Art History: "The Lute"