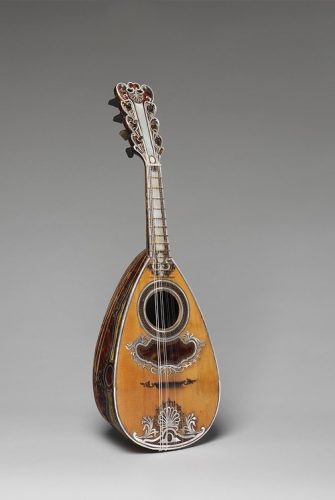 Antonio Vinaccia (Italian, active 1754–1781)
Mandolin, 1781
Spruce, tortoiseshell, mother-of-pearl, gold alloy, ivory; L. 23 in. (58.4 cm)
The Metropolitan Museum of Art, New York, The Crosby Brown Collection of Musical Instruments, 1889 (89.4.2140)
In the mid-eighteenth century, several regional variations of the mandolin developed in Italy, the most important being the one from Naples. The Neapolitan mandolin, probably designed by a member of the Vinaccia family, has a cant (bend) below the bridge that gives the instrument greater strength. The four pairs of strings are tuned to the pitches of a violin and the instrument is played with a plectrum. It became an indispensable part of nineteenth-century Neapolitan culture.
In the late nineteenth century, a mandolin craze swept the United States, and to fill the market thousands of instruments were imported from mandolin makers in southern Italy.
This early Neapolitan mandolin is among the most decorated examples of its kind. The back is made of twenty-three narrow fluted strips of tortoiseshell with ebony and ivory spacers. The sides are elaborately decorated with tortoiseshell molding and floral paintings on a gilt ground. The soundboard is decorated with inlaid mother-of-pearl, tortoiseshell, and gold alloy.