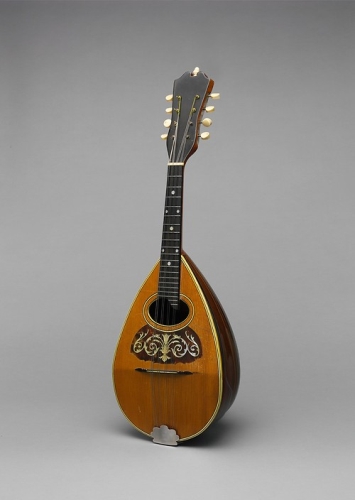 John D'Angelico (American, 1905–1964)
Mandolin, ca. 1925
Spruce, Brazilian rosewood, celluloid, tortoiseshell; 8 1/4 x 6 x 24 1/2 in. (21 x 15.2 x 62.2 cm)
The Metropolitan Museum of Art, New York, Purchase, The Jonathan & Faye Kellerman Foundation Gift, 2007 (2007.456)
Another of the Italian-born luthiers working in New York City around 1900 was Raphael Ciani, who had immigrated to the United States in 1903. He had a small workshop on Kenmare Street on the Lower East Side and is thought to have employed several workers, including the young John D'Angelico, a nephew, who may have begun learning the craft of lutherie as a young boy.
This rather plain bowlback mandolin is a typical example of the Neapolitan-style mandolin that was popular in the United States from the late nineteenth century into the 1920s. Its only decorative feature is the inlaid mother-of-pearl floral motif in the tortoiseshell pickguard. It is a rare example of a bowlback mandolin with a D'Angelico label and shows his early training in the craft from his uncle's workshop.
Related Performances
---
Barry Mitterhoff plays "Speranze Perdute" on a ca. 1928 mandolin by John D'Angelico. Recorded August 12, 2010, at The Metropolitan Museum of Art.