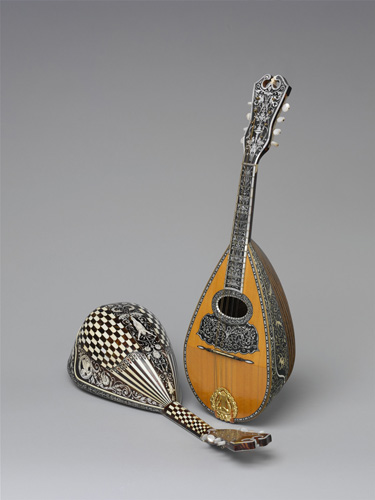 Angelo Mannello (American, b. Italy, 1858–1922)
Mandolins, ca. 1900
Spruce, tortoiseshell, ivory, metal; both approximately 7 3/4 x 24 5/8 in. (19.7 x 62.5 cm)
The Metropolitan Museum of Art, New York, Gift of the family of Angelo Mannello, 1972 (1972.111.1, 1972.111.2)
These mandolins were both made by Angelo Mannello, a luthier who was born in Morcone, Italy, and moved to the United States in 1885 where he opened a workshop in the Bronx. Mannello became one of the city's largest mandolin manufacturers, employing as many as seventy-five workers and producing thousands of mandolins each year for sale through musical instrument distributors such as C. Bruno.
The mandolin on the left is the most extravagant of Angelo Mannello's creations; he exhibited it at musical-instrument fairs and expositions and posed with it in photographs. The back of the bowl and neck is covered with a decorative checkerboard pattern of ivory and tortoiseshell. A center band runs up the back of the mandolin culminating in a nude surrounded by putti playing instruments, grotesques, and vegetation. The top, fingerboard, and headstock are similarly inlaid with mother-of-pearl in a tortoiseshell veneer, and the maker's name is incised in an ivory oval around the sound hole.
Related Audio
---
"Cordobesa (Habanera)," by Pedro Aperte
Performed on a Mannello mandolin (1972.111.1) by Dennis Cinelli, with guitar accompaniment by Darren O'Neill. Recorded June 11, 2007, at The Metropolitan Museum of Art.