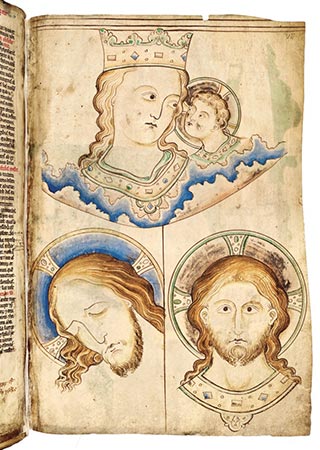 Above: Matthew Paris (ca. 1200–1259). The Virgin and Christ Child; Christ Crucified; Christ in Majesty. From Chronica Majora, vol. 1. Saint Albans, England, ca. 1240–53. Corpus Christi College Library, Cambridge, MS 26.
During the course of preparing this exhibition, I felt I came to know many of the draftsmen featured in the exhibition quite well. Their distinctive way with the pen would appear in a new [to me] manuscript, and I felt I was reacquainting myself with an old friend. Of course, we don't know most of the names of these draftsmen, but one whose name is well known, at least among students of the Middle Ages, is Matthew Paris, a monk who lived in the first half of the thirteenth century. The exhibition features one work by Matthew—a marvelous, highly finished drawing of a set of heads. It is single sheet bound into a chronicle Matthew maintained as the designated historian for Saint Albans monastery, outside of London.
If I could choose one manuscript in the exhibition to have disbound in order for visitors to see the array of drawings inside, it would probably be this one. Fortunately, you can page through this work by logging into the website for the Parker Library at Corpus Christi College, Cambridge; it's manuscript number 26.
Matthew was a prolific draftsman, very conscious of the different ways he could use drawings to enhance his texts. The margins of his texts are scattered with all kinds of drawings—some used as place markers, some used to indicate significant events. Some assist in cross-indexing entries in his chronicle, and others—little pictures of documents of various sorts—testify to the fact they he laid eyes on the texts he cites in his work. Matthew excelled in every genre of drawing—maps, charts, diagrams, simple graphic icons, gripping narrative scenes. There's really no artist quite like him in the history of medieval art, and I've sometimes wondered if his inventive, even eccentric, take on images might have been abetted by the fact that, as the abbey historian, he worked outside of the scriptorium, in relatively secluded quarters.
The drawing of heads is his only full-page drawing without a text to accompany it, and is surely one of his loveliest. In her book The Art of Matthew Paris in the Chronica Majora (University of California Press, 1987), Suzanne Lewis has suggested that the work portrays works of art that Matthew saw, perhaps even in his own monastery. In another manuscript, Matthew provided pictorial documentation of the gems and rings in the monastery's collection. There he attempts to provide pictorial documentation to accompany a catalogue. The documentary nature of the gems stands apart from the heads, which he attempts to imbue with beauty, vitality, or pathos, as appropriate. I am intrigued by the fact that he chose to focus exclusively on faces, and seems to have selected these works to capture a variety of poses, moods, and affects. Though his subjects are works of art and not live human beings, I can't help but be reminded of the kinds of studies of heads—such as the sketches of Jacquemart de Hesdin in the Morgan Library—that we associate with the later Middle Ages and the Renaissance.
—Melanie Holcomb
Tags: Chronica Majora, Jacquemart de Hesdin, Matthew Paris, Saint Albans, Suzanne Lewis