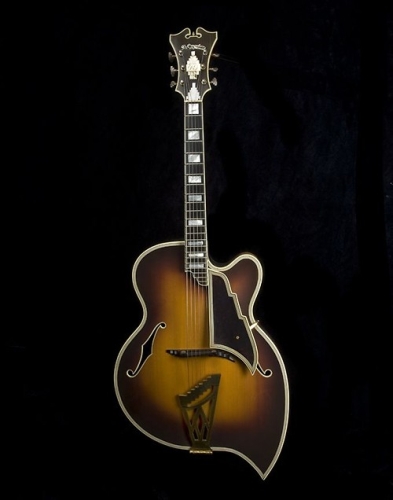 John D'Angelico (American, 1905–1964)
Archtop Guitar, "Teardrop" New Yorker model (serial number 2032), 1957
Spruce, maple, ebony, brass, celluloid, mother-of-pearl; sunburst finish, cutaway; W. 17 1/2 in. (44.5 cm)
The Scott Chinery Collection
Photo © Archtop History, Inc. from the book ARCHTOP GUITARS: The Journey from Cremona to New York by Rudy Pensa and Vincent Ricardel
In 1957 the musician Pete Girardi, who played in a group called The Teardrops, commissioned John D'Angelico to build a guitar that would be unique to his act. The resulting "Teardrop" has all the decorative appointments of a New Yorker model guitar plus a large protruding fin on the lower right corner. The one-of-a-kind instrument became a much sought-after collector's piece and an icon of guitar building. The collector Scott Chinery acquired the instrument and in 1993 challenged James D'Aquisto to do his own interpretation of the famous form. D'Aquisto's instrument has all the features of his Solo model along with the protruding fin. In 2007 Monteleone was presented with a commission to build his own interpretation of the "Teardrop." His instrument has his signature scroll body, balancing the fin of the guitar. This exhibition is the only time that all three "Teardrops" have been together.
Song Credits
---
"Two Teardrops," written and performed by Steve Howe and Martin Taylor. Bug Music/MRM Ltd. Recorded 2002 on Masterpiece Guitars, P3 music.