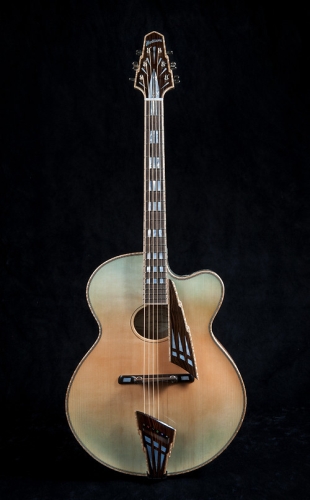 John Monteleone (American, b. 1947)
Archtop Guitar, Deco Vox (serial number 215), 2007
Spruce, maple, ebony, mother-of-pearl; sunburst finish (blonde to silver); W. 16 in. (40.6 cm)
Private Collection
Photo © Archtop History, Inc. from the book ARCHTOP GUITARS: The Journey from Cremona to New York by Rudy Pensa and Vincent Ricardel
The archtop guitar market rebounded in the late 1980s after a long period of decline that began in the 1960s. The resurgence of interest was in large measure driven by collectors who were interested in working with a luthier to create custom instruments that matched both their individual needs as players and sometimes a unique visual aesthetic. This change for high-end makers such as James D'Aquisto and John Monteleone led to guitars that are more singular creations rather than based on model designations. Monteleone developed this idea through a series of themes, such as his love for the architecture of New York, his fascination with color and geometric shapes, and his life experience.
The Deco Vox draws inspiration from the Chrysler building at sunset and uses the metallic colors of the building throughout the design as well as the shape of the headstock, which is evocative of the profile of the famous Manhattan landmark.
Related Performances
---
Woody Mann plays "Mr. Guitar" on the Deco Vox archtop guitar by John Monteleone. Recorded August 12, 2010, at The Metropolitan Museum of Art.
Related Interview
---
Woody Mann talks about ordering a custom Monteleone guitar