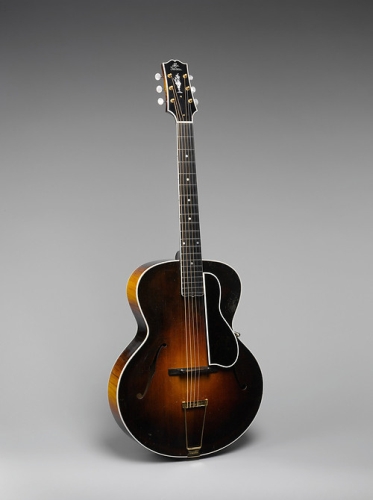 Gibson, Inc.
Archtop Guitar, L-5 model (serial number 87083), 1928
Spruce, maple, ebony, steel, celluloid, mother-of-pearl; sunburst finish; 8 1/4 x 6 x 24 1/2 in. (21 x 15.2 x 62.2 cm)
Private Collection
Orville Gibson of Kalamazoo, Michigan, invented the archtop guitar and the mandolin in the 1890s and obtained a patent for them in 1895. These instruments have a carved arched top and back, a feature of violins. Gibson sold his designs and patents to a group of Kalamazoo investors that opened the Gibson Mandolin-Guitar Manufacturing Company, Ltd. In 1922, under the direction of Lloyd Loar, the firm introduced the L-5 guitar as part of its Master Model series. The L-5 incorporates additional violin features such as the floating bridge and tailpiece and the use of f-holes. The first L-5s had body widths of sixteen inches and were used by such prominent jazz guitarists as Charlie Christian and Eddie Lang and by scores of important musicians in nearly every genre since that time. John D'Angelico copied his first archtop guitars from the Gibson L-5 model.