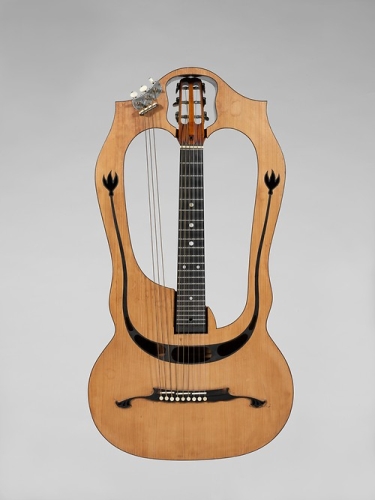 Luigi Mozzani (Italian, 1869–1943)
Chitarra-Lyra, or Harp Guitar, ca. 1915
Maple, spruce, ebony; 17 1/2 x 33 in. (44.5 x 83.8 cm)
The Metropolitan Museum of Art, New York, Purchase, The Jonathan & Faye Kellerman Foundation Gift, 2008 (2008.356)
The chitarra-lyra was a type built by the luthier Luigi Mozzani in Cento in the early twentieth century. Mozzani, a noted guitarist, copied the form from the earlier builder Friedrich Schenk, who made similar instruments as early as the 1830s. This remarkable instrument has six strings over a fretted fingerboard with three open bass strings. The floating fingerboard can be adjusted with screws that are accessible from the back of the instrument. Mozzani was the instructor of the luthier Mario Maccaferri, who would later own this guitar.